Traders are looking to sell the Canadian dollar (buy USD/CAD) (NYSEARCA:FXC) ahead of Tuesday's Bank of Canada decision. The market has rapidly scaled back rate hike expectations in the past month.
The BOC was beginning to tilt hawkishly lat month but is likely to unwind the implied future easing tomorrow. The OIS market is almost back to neutral with just 3 bps of hikes priced in over the next 12 months.
With rates at 1.00%, the BOC has room to cut rates and is likely to head down that path if the Fed rolls out QE3. Patient players are looking to buy USD/CAD closer to 1.03 but that's looking unlikely and they may take what they can get.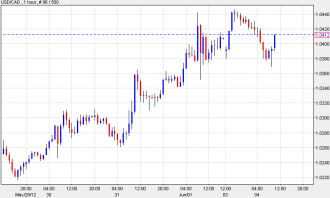 http://www.forexlive.com/blog/2012/06/04/cad-reluctant-to-join-risk-rally/