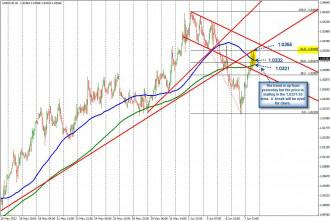 Canada had it's day to shine by not having to share the Unemployment release with the US and wouldn't you know it, it comes out pretty much spot on. So a non event from the fundamental perspective.
From a technical perspective the price is also in a "non event area" where there is a bunch of technical levels clustered together. Looking at the hourly chart above:
The high held the 61.8% of the move down this week at the 1.0355.
Also at that level is the underside of the long trendline connecting the low from May 3rd and May 11th ( not shown but comes in at 1.0356).
Below that the 100 hour MA is at 1.0332, and
The 200 hour MA is at 1.0321 help to define the range.
The low this hour found support against the 200 hour MA. If a move away from this congestion is to start and the trend higher today is to continue, traders can lean against this level with a tight stop below. If the level holds, the progression higher would eventually need to break above that 1.0355/56 area to give the buyers more reason to cheer. A move back below the 200 hour MA would likely disappoint and lead to a rotation back lower. A move below the 1.0298 level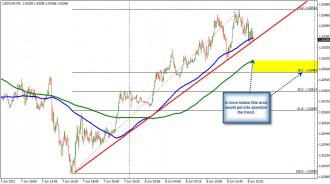 http://www.forexlive.com/blog/2012/06/08/usdcad-rallies-but-as-a-bunch-of-stuff-in-the-way/