Just like most other pairs, the AUD/USD (NYSEARCA:FXA) gapped higher over the weekend but has since rotated back down. The price has just moved below the close from Friday at 0.99185. The 50% of the move up from Friday comes out at the 0.99129. The low so far comes in at 0.9912. The next key target area on the downside comes in at the 61.8% of the move up from Friday at 0.98901. The 100 hour MA at 0.9886 is not far behind, followed by trendline at 0.9874.
On the topside, the 0.99448 is the 38.2% of the move down today. Before that level watch the 09930 for bearish clues. The trend down, has been steadily accelerating (from red to blue to green channel). The 0.9930 is the underside of the initial down channel (red) and the top trend line of the green channel. Stay below, and sellers are remaining in firm control.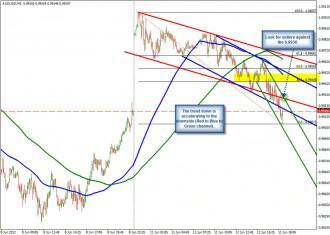 On a closing basis today, the 0.99206 is the broken 38.2% of the move down from the April 2012 high to the low. The price moved above this resistance level on Wednesday, Thursday and Friday of last week, but could not reach the next 50% retracement target (it could not close much above the level either). A close below this retracement is a failure and should lead to further downside momentum going forward.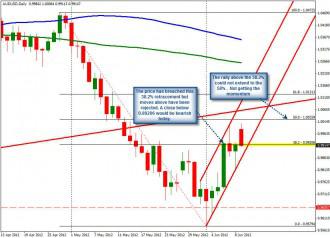 http://www.forexlive.com/blog/2012/06/11/audusd-back-below-fridays-closing-level/