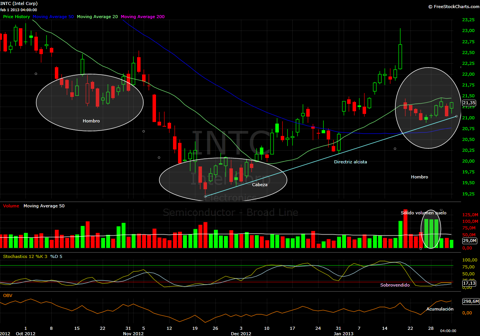 Good Afternoon:
I love Intel (NASDAQ:INTC). This company is leader in semis. It has an excellent fundamentals, strong financials and a nice dividend at today market price level, is a endurable cash cow and is dirty cheap..
Intel has a discount Vs. peers ´cause until last year wasn´t develop a wide range of microprocessors to mobile industry, but things could change very quickly, after Intel news that they will fight mobile arena with new double core processors to smartphones playing Android S.O. So with the expertise of INTC in that business I won´t dude that they will compete fierce to get a place in the Sun in that business.
Tech. speaking INTC is navigating over a bottom line with heavy trading volume, and it seems to be forming a Chartist Inverted Shoulders/head long term formation, so it could be a nice business get into this undervalued company and put some chips on your portfolio for the long term.
Have a nice week-end
http://www.elnidodelaguila.com
Disclosure: I am long INTC.