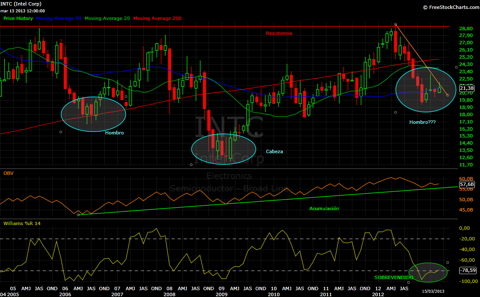 Good Afternoon:
As a technical Chartist investor I like to choose for my portfolio the companies that offers the best reward/risk ratio for my long term holdings, and this time I would like to mention Intel Corp. (NASDAQ:INTC). A company with strong financials, better dividend and a curious and clear divergence between short and long Chartist patterns.
We can see INTC in the short time frame as moderate overbought after recent run-up (daily charts). But if you change the photograph to longer time frame graphs (monthly charts) the perspective favors long term investors, ´cause we can see a company forming a nice bullish Inverted Head/shoulders Chartist pattern with a heavy oversold condition watching %Williams oscillator, and with a healthy accumulation on OBV indicator.
As a key note to INTC´s near term bullish development, INTC needs to break dynamic resistance (orange line) to confirm second shoulder.
As you can see, different time frame Chartist views change dramatically the patterns of this undervalued company; so I recommend buying every dip in the short time frame and profit being Long for portfolios with long term perspectives.
Have a nice day..
Disclosure: I am long INTC.
Additional disclosure: Long ideas Tech Semis