Updated in 05/22/2017
Good Afternoon:
Trying to find a bottom in a depressed company is difficult, but if you are disciplined and choose the right tools to look for market price level entries that fit with companies with strong financials, you will get better chances to make the right decisions.
Gilead Sciences (NASDAQ:GILD) in Nasdaq market, is a strong biotech company with a proven track record to find medicines that cure malaises like Hepatitis C and provide good medicines to fight HIV; its pipeline is solid plenty of candidates in advanced stages of study.
Financials are strong with 32B in cash and marketable securities, with a 3,24% dividend, institutional investors are loading again, with 82,79% in their bags, in a heavy exchange from institutions selling and others buying, with a net inflow of more than 89M shares.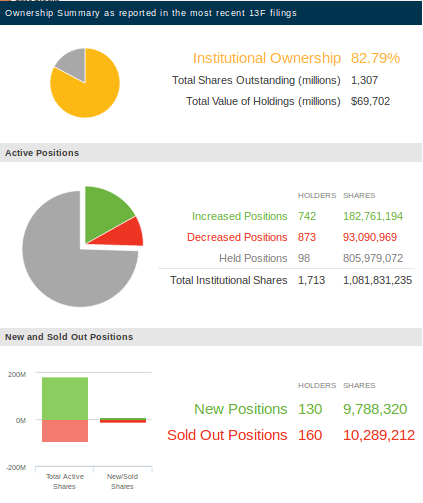 Data from: www.nasdaq.com/symbol/gild/institutional-holdings
I´m confident that the company is ready to improve its grow via selective acquisitions or simply, if there isn´t a good take-over candidate that fits with company strategic interests, buying back its own shares in a friendly shareholders path.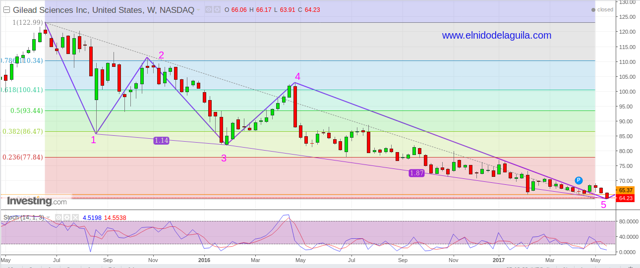 I´m starting investing in Gilead choosing what i feel is an interesting entry point, looking for a bottom pattern enclosed in a more wide Elliott wave pattern, with five downside waves from top, so reward/risk is optimal because target a change of a downside cycle and give us a price target about nearly 50% Fibonacci ratio of all the downside wave counts.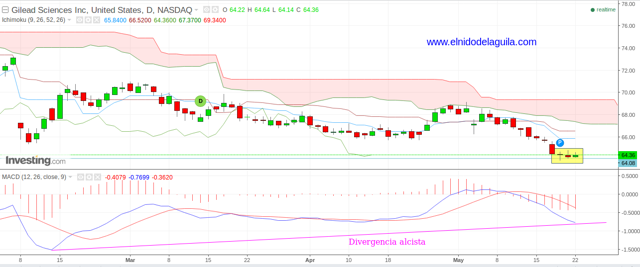 If you look at GILD near term, on daily chats, we can see the building of a clip that could be a sign of a bottom pattern, we can watch also a strong MACD oscillator divergence, that could lead to a stabilization of the share
Best wishes from Spain..
Remember to make your own diligence before investing.
Disclosure: I am/we are long GILD.