Good Morning:
Gamesa Corp is the 4th largest wind turbines manufacture by market share globally, now it´s trading on Spanish Ibex-35 at €1.16, so with a book value of 6.48 €. Mr.market is trading Gamesa at 0.18 book/value ratio. Let me tell you, a non sense rational valuation...
Of course Gamesa is navigating in a difficult regulatory and low grade investment environment, but still bills for 1.64B€, just in last quarter, business margins in Wind energy builders are low, but with oil prices skyrocketing, Wind energy is a competitive and clean energy source for utilities and clean energy Investing funds with faith in the future of renewable energy.
Gamesa USA is improving its sales in N.America due (tax credits expirations in clean energy) and S.America as a new growing market, but Europe, India & Asian markets are still weak, but in my humble opinion we´re in the low end territory of the economic cycle for renewable energy business.
Tech.speaking and watching Gamesa Corp. Weekly graphs, last week made a nice bottom Hammer with volume, that could change Gamesa´s long downtrend. We´ll see what´s about...
Have a nice day.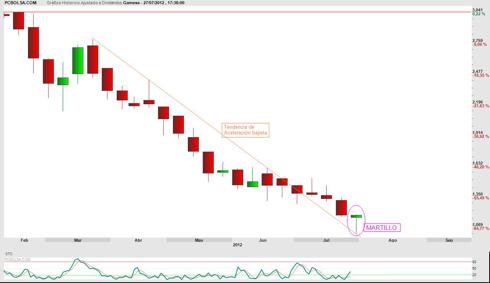 Disclosure: I am long OTCPK:GCTAF, EWP.