The Deal:
Max Sound Corporation (OTCPK:MAXD) announced today that they are divesting a portion of their patented HD Audio technology to Imperalis Holdings Company (OTCPK:IMHC). The press release can be reviewed here. This is great news for existing shareholders who have suffered through declining value from ever increasing dilution from toxic convertible notes in the past few years. This is also a great value opportunity for new investors to get into IMHC at a fraction of the cost of it's current market value. IMHC plans to commercialize MAXD's HD-Audio technology, while leaving MAXD with the rights to the downloadable smartphone apps and the MAXD Bluetooth Receiving Device. The release also stated that MAXD will retain certain percentages of existing sales in year one and two. The focus of MAXD has seemed to shift from their core HD Audio technology to their lawsuits against Google (NASDAQ:GOOG) and Netflix (NASDAQ:NFLX). The divesting of these assets should allow MAXD to hone their focus on the monetization of the ODT patents and still realize revenues if IMHC closes deals.
As of the closing bell today, the IMHC cost per share is $0.90 and the MAXD cost per share is $0.0067. I will be using these numbers along with a few other metrics to determine a valuation for this transaction.
As stated before, MAXD has been plagued with dilution, however the dilution should come to screeching halt as per their recent press release. In reviewing the most recent 10k filing, MAXD raised significant capital by entering into a plethora of conversion agreements. This was in an effort to continue operations while they continue to pursue revenue from their litigation efforts against Google, Netflix, and through the commercialization of their HD-audio technology. This coupled with the costs from the unforeseen legal battle over the ODT patent rights with their partner, VSL Communications has had a dramatic effect on the share price.
Convertible Note Payoff and Consolidation:
On Friday, April 15th MAXD announced that they paid down current convertible debt and consolidated the remaining debt to a "friendly, long-term, strategic financing partner". This, in my opinion, enabled MAXD, to significantly slow down dilution and opened the door to today's announced transaction with IMHC. This transaction is not only potentially good for MAXD shareholders, but should create a strong financial lifeline for MAXD to continue the monetization of the alleged unlawful use of the ODT patents by many corporate entities.
Imperalis Holdings Company:
Robin Sibucau was recently appointed as the new Chief Executive Officer of Imperalis Holdings Company. This news can be reviewed here. From what I can gather, in looking at his career, it appears he has ample experience that should help in commercializing the HD audio technology.
Here is his LinkedIn profile and a bio I found in BusinessWeek:
www.linkedin.com/in/robin-sibucao-a758632
www.bloomberg.com/research/stocks/privat...
Mr. Sibucao has also served on the MAXD advisory board, so he should have intimate knowledge of the intellectual property that is being purchased. His bio on the MAXD website can be viewed here.
I assume Imperalis will also inherit the rights to the Luna and Akyumen contracts, being that MAXD is only retaining two assets associated with the HD Audio tech. Based on the published royalty rates for these two contracts, relative success for either of these companies in the cellular phone space could yield decent revenues. Sales revenue for Imperalis would have a much greater impact on their share price as opposed to the share price impact for the much more diluted MAXD share structure. This would be in addition to any new business that Imperalis secures. With a long history in the audio space, it could very well be possible that Mr. Sibucao may have relationships in the industry that could help as a catalyst in the commercialization of the technology.
Value of Transaction
The agreement between MAXD and IMHC is a non-cash acquisition through a stock purchase. Up until now, the value of the MAXD HD audio technology had not been established. Being that MAXD has not yet realized a performing contract, a revenue based model has yet to be established. Albeit, they do have two signed contracts with two startup cell phone manufacturers, Luna Mobile and Akyumen, both with published royalty rates of $1.50 and $2.50 per phone respectively. However, neither company has yet launched their line of cell phones, nor have I been able to find any sales projections. I will be contacting both companies to see if they have updates on launch dates. I will also update this article when any additional information has been obtained.
So with that being said, what is the value of the MAXD HD audio technology? The press release today was rather vague as to what was going to be distributed to MAXD shareholders. I contacted the company to get clarification. The following is what I was told: IMHC will be purchasing the MAXD HD Audio technology with 48,000,000 shares of IMHC common stock. The 48,000,000 shares will be distributed equally to all shareholders.
This, in my experience, is a very generous stock dividend. Being that IMHC is currently trading at a $0.90 per share, this places a current value on the MAXD technology at $43,200,000. These shares will get directly imputed and distributed to all MAXD shareholders on the date of recording as a stock dividend.
In looking at the recently filed 10k for MAXD, the number of outstanding shares is 647,642,452. The number of preferred shares in the treasury is 5,000,000. These shares can be converted by management to 125,000,000 non-preferred shares. This brings the total outstanding to 772,642,452. Dividing the 48,000,000 IMHC shares into the number of MAXD outstanding will yield 1 share of IMHC for every 16 shares of MAXD. (If the outstanding shares have increased since the 10k filing, the ratio will have to be adjusted accordingly). This means that on the date of recording, a MAXD shareholder who holds 1 million shares will have 62,500 shares of IMHC stock imputed to their account. At the current market price of $0.90 per share for IMHC, this would give the MAXD shareholder a current value of $56,250. (Please keep in mind that these shares will be restricted for 1 year.) At the closing bell today, the MAXD price per share was $0.0067, so 16 shares of MAXD is currently valued at only $0.107. The value disparity between $0.107 and $0.90 is large to say the least. To bring the value to parity, the MAXD share price would need to be $0.056 per share. ($0.056 multiplied by 16 shares is $0.90.). If MAXD were to exceed $0.056 per share, there would be no more intrinsic value in relation to this IMHC/MAXD transaction. However, this may change as the share prices for both companies fluctuate.
Again, it is important to remember that the IMHC stock will be restricted for one year for the protection of IMHC and all shareholders. The inherent risk here is that if Imperalis performs poorly, the stock price may erode considerably ex-dividend, before the shares become tradable. With the current disparity between the intrinsic value of MAXD and IMHC, this risk is somewhat mitigated by the large delta. On the flip side, if IMHC performs well and shareholder value increases, the performance of the stock dividend acquired by MAXD shareholders will yield a very large return.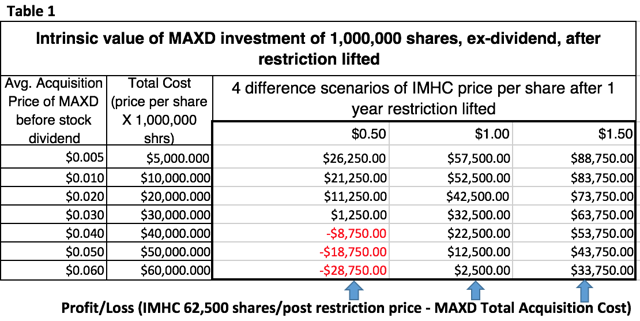 In an effort to make Table 1 more comprehensible, if an investor purchased 1,000,000 shares of MAXD at $0.01, the acquisition cost would $10,000. If IMHC performs well and is valued at $1.50 ex-dividend (when the shares become unrestricted), the 62,500 shares that were imputed to the MAXD investor would yield a profit of $83,750. This would be a 737.5% increase. If IMHC lost value and the share price was $0.50 when the shares became unrestricted, the same investment would be worth $21,250 yielding a 112.5% return. Obviously, this investment would yield a loss if the acquisition cost was higher or if the IMHC share price were to decline significantly before the shares become unrestricted.
Summary:
In conclusion, I believe this is a great opportunity for new and existing shareholders. I always look for value in any investment and the intrinsic value presented above makes this a difficult opportunity to pass. At the very least it gives diversity to the MAXD shareholder. If MAXD is successful in monetizing their ODT patents and IMHC struggles to monetize or vice versa, the risk is mitigated. If IMHC performs well, investors have the opportunity to acquire shares at a tremendous discount. I will continue to dig deeper into this deal, IMHC, and IMHC management and will report any and all things I find in the comments of this article.
Disclosure: I am/we are long MAXD.