Edgar Perez, Author, The Speed Traders: An Insider's Look at the New High-Frequency Trading Phenomenon That is Transforming the Investing World, spoke with CNBC Cash Flow's Oriel Morrison about the criticism high-frequency trading has experimented since it started being covered by the mainstream media; the interview is available on CNBC's website at http://video.cnbc.com/gallery/?video=2023403523.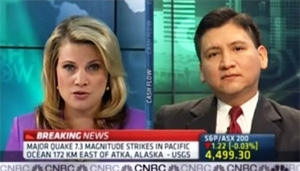 CNBC's Oriel Morrison, in particular, asked Mr. Perez his opinion regarding the criticism high-frequency trading has received. "Edgar, let's take a look at some of the criticism because there has been a lot of controversy with kind of trading. Now, fairness has certainly been an issue that has been raised when it comes to this. Can there be fairness without transparency because with the speed of these trades, you simply you can't get the transparency that you may well have if you have an institution putting on a big trade at any one point in time?"
Mr. Perez pointed out that some of the criticism is unfair and doesn't address the right issues. "As I mention in my book, The Speed Traders, there has been a lot of criticism since 2009. And, I think that was influenced by the flash crash that happened last year. When that happened, people thought, 'This is high-frequency traders. They are there in the market. They were not 10 years ago, so flash crashes didn't happen before.' But to be fair, we have market crashes all the time. We had the Great Depression. We had Black Monday. And, in those cases, you cannot say that electronic trading was prevalent. So, if you look at those occasions, long term investors are always the catalysts. Humans are very emotional and when they see bad news – and that's what happened on May 6th – they will try to sell. Of course, computers in that day – May 6th – contributed to that decline in the markets in a very quick fashion. But at the same time, once the market came down, the market went up again very quickly because of computers. So, if you look at Black Monday, it took a month for the markets to recover. In this case, with the flash crash, it took 20 minutes for the market to recover. So, definitely, computers accelerate changes but it will be unfair to exclusively blame computers for this."
The Speed Traders, http://www.TheSpeedTraders.com, published by McGraw-Hill Inc., is the most comprehensive, revealing work available on the most important development in trading in generations. High-frequency trading will no doubt play an ever larger role as computer technology advances and the global exchanges embrace fast electronic access. The Speed Traders explains everything there is to know about how today's high-frequency traders make millions—one cent at a time."
Mr. Perez is widely regarded as the pre-eminent networker in the specialized area of high-frequency trading. He is the founder of Golden Networking and host of High-Frequency Trading Happy Hour business receptions (http://www.hfthappyhour.com) in New York City, which have drawn the world's top industry practitioners. He has been interviewed by CNBC, TheStreet.com, Bloomberg and Channel NewsAsia, and engaged as speaker at Harvard Business School's 17th Annual Venture Capital & Private Equity Conference, Columbia Business School's Career Management Center and Alumni Club of New York, High-Frequency Trading Leaders Forum 2011 (New York, Hong Kong, Chicago, Sao Paulo, Singapore), CFA Singapore, and Hong Kong Securities Institute, among others prestigious forums.
Mr. Perez was a vice president at Citi, a senior consultant at IBM, and a consultant at McKinsey & Co. in New York City. Mr. Perez has an undergraduate degree from Universidad Nacional de Ingeniería, Lima, Peru (1994), a Master of Administration from Universidad ESAN, Lima, Peru (1997) and a Master of Business Administration from Columbia Business School, with a dual major in Finance and Management (2002). He is a member of the Beta Gamma Sigma international honor society. Mr. Perez resides in the New York City area and is an accomplished salsa and hustle dancer.
Mr. Perez is one of the great business networkers and motivators on the lecture circuit; he is available worldwide for the following speaking engagements: Present and Future of High-Frequency Trading, The Real Story behind the "Flash Crash", Networking for Financial Executives, and Business Networking for Success.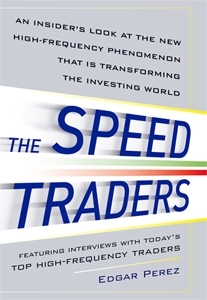 # # #