No speed limits will be imposed at the Times Square Book Launch Party for The Speed Traders

, An Insider's Look at the New High-Frequency Trading Phenomenon That is Transforming the Investing World

,

 

(http://www.thespeedtraders.com), July 12, from 6:00 p.m. to 9:00 p.m., at The Living Room in the W Hotel in New York City. Author Edgar Perez encourages guests to RSVP at http://thespeedtradersnyc.eventbrite.com;

d

uring the scheduled event, the author will be greeting guests and signing copies of The Speed Traders.
High-Frequency Trading is in focus because there's concern among some investors that their super-fast trading may be unfair, and leading to strange movements in securities -- most notably the "flash crash". In a new consultation paper, the International Organization of Securities Commissions lays out what it knows about high frequency traders, and the upshot is not much -- but the regulatory body is voicing some significant concerns. Chief among them is that the technological advantage of high-frequency traders gives them an unfair edge, causing other investors to drop out of markets, and whether their speed and sophistication make it too hard for regulators to ensure they aren't gaming markets.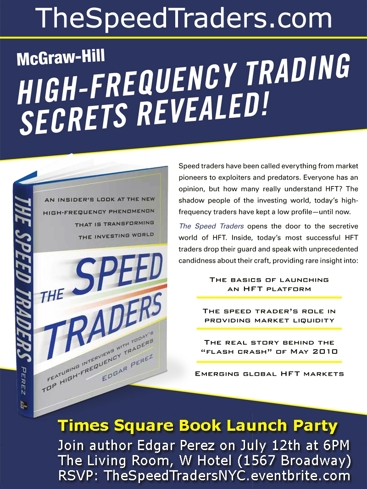 "Although the technological advantage might decline in the future as technology often becomes commoditized, a challenge posed by HFT is the need to understand whether HFT firms' superior trading capabilities result in an unfair advantage over other market participants, such that the overall fairness and integrity of the market are put at risk," said IOSCO, whose members include Canada's securities commissions.
The regulatory body added that "many trading strategies used by HFT participants are so sophisticated that they raise an issue as to whether market authorities have the necessary resources to conduct effective market surveillance."
The Speed Traders, published by McGraw-Hill Inc., is the most comprehensive, revealing work available on the most important development in trading in generations. High-frequency trading will no doubt play an ever larger role as computer technology advances and the global exchanges embrace fast electronic access. The Speed Traders explains everything there is to know about how today's high-frequency traders make millions—one cent at a time. In this new title, The Speed Traders, Mr. Perez opens the door to the secretive world of high-frequency trading. Inside, prominent figures drop their guard and speak with unprecedented candidness about their trade.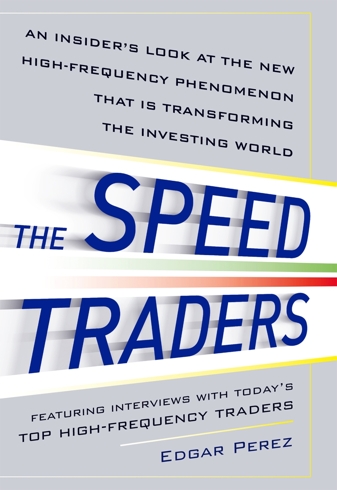 Mr. Perez has recently been featured on CNBC, TheStreet.com and Channel NewsAsia, and engaged as speaker at Harvard Business School's 17th Annual Venture Capital & Private Equity Conference, Columbia Business School's Career Management Center and Alumni Club of New York, High-Frequency Trading Leaders Forum 2011, CFA Singapore, Hong Kong Securities Institute, News and Sentiment Trading, Waters USA 2011, among other prestigious global forums.
Mr. Perez was a vice president at Citigroup, a senior consultant at IBM, and a consultant at McKinsey & Co. in New York City. Mr. Perez has an undergraduate degree from Universidad Nacional de Ingeniería, Lima, Peru (1994), a Master of Administration from Universidad ESAN, Lima, Peru (1997) and a Master of Business Administration from Columbia Business School, with a dual major in Finance and Management (2002). He is a member of the Beta Gamma Sigma international honor society. Mr. Perez resides in the New York City area and is an accomplished salsa and hustle dancer.
Mr. Perez is one of the great business networkers and motivators on the lecture circuit; he is available worldwide for the following speaking engagements: Present and Future of High-Frequency Trading, The Real Story behind the "Flash Crash", Networking for Financial Executives, and Business Networking for Success.