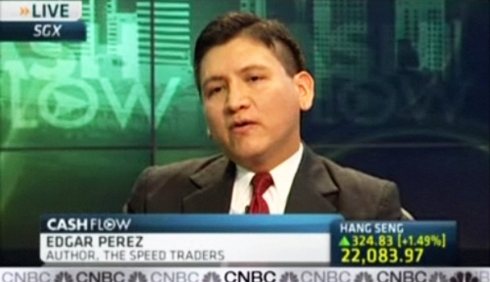 Mr. Edgar Perez, author of
The Speed Traders
, An Insider's Look at the New High-Frequency Trading Phenomenon That is Transforming the Investing World
(
http://www.thespeedtraders.com
), wrote on
Modern Finance Report
(
http://www.modernfinancereport.com
) that
he would not be inclined to kill the messenger and instead see S&P's decision in a positive light as it should serve as an effective wake-up call to get Washington's warring players to the negotiating table again. He gave the example of S&P's past decision to put the UK's AAA-rating on negative outlook in May 2009, which fueled a debate on the need for significant fiscal tightening, and tough decisions taken by the new coalition government, which were eventually rewarded by S&P with the UK's outlook being revised back up to stable in October last year.
Mr. Perez wrote: "We cannot deny the significant psychological impact of S&P's decision on the markets and the view of foreign governments and investors of the U.S. economy. However, I expect Monday' stock plunge to be a short-term event that will lose steam quickly. In fact, investors can be tempted to use it as reason to snatch value plays, as there would have not been a fundamental change from where we were last Friday. At the end of the day, S&P's main theme, that U.S. finances are in bad shape, is not news to investors and traders; for instance, Pimco, the world's largest bond fund, had stepped away from US government debt back in March; in addition, savvy money managers had already positioned themselves for a potential rating downgrade."
Finally, he summarized: "I agree with experts who sustain that the downgrade will not lead to sharp rises of lending rates to the corporate sector or households in the U.S., as Fitch and Moody's still maintain their top rating for U.S. debt. Also, a sudden sell off of U.S. Treasury instruments looks unlikely, as there are still not many safe assets to replace them. Once the dust settles, attention will turn back to the economic fundamentals. Disregarding the S&P downgrade comes with high risk for the U.S. economy, particularly if Washington prioritizes electoral concerns over the long-term health of this great nation, the United States of America."
Consulted about the impact on high-frequency trading activity on Monday when the markets open, he said: "A stock plunge (increase of volume) and a spike in volatility on Monday are reasonably expected given S&P's downgrade of the U.S. debt rating; the U.S. stock market was coming off its worst week since the financial crisis. So we have here two of the main requirements for high-frequency trading, volume and volatility. Therefore, it will be reasonable to expect Monday to be a busy day for speed traders, as they provide the liquidity long-term investors will need to survive the day."
The Speed Traders, published by McGraw-Hill Inc., is the most comprehensive, revealing work available on the most important development in trading in generations. High-frequency trading will no doubt play an ever larger role as computer technology advances and the global exchanges embrace fast electronic access. The Speed Traders explains everything there is to know about how today's high-frequency traders make millions—one cent at a time. In this new title, The Speed Traders, Mr. Perez opens the door to the secretive world of high-frequency trading. Inside, prominent figures drop their guard and speak with unprecedented candidness about their trade.
Mr. Perez is widely regarded as the pre-eminent networker in the specialized area of high-frequency trading. He has been featured on CNBC Cash Flow (with Oriel Morrison), TheStreet.com (with Gregg Greenberg) and Channel NewsAsia (with Lin Xue Ling), and engaged as speaker at Harvard Business School's 17th Annual Venture Capital & Private Equity Conference, High-Frequency Trading Leaders Forum 2011, CFA Singapore, Hong Kong Securities Institute and Waters USA 2011, among other global forums.
Mr. Perez was a vice president at Citigroup, a senior consultant at IBM, and a consultant at McKinsey & Co. in New York City.  Mr. Perez has an undergraduate degree from Universidad Nacional de Ingeniería, Lima, Peru (1994), a Master of Administration from Universidad ESAN, Lima, Peru (1997) and a Master of Business Administration from Columbia Business School, with a dual major in Finance and Management (2002). He belongs to the Beta Gamma Sigma honor society. Mr. Perez resides in the New York City area and is an accomplished salsa and hustle dancer.
Mr. Perez is one of the great business networkers and motivators on the lecture circuit; he is available worldwide for the following speaking engagements: Present and Future of High-Frequency Trading, The Real Story behind the "Flash Crash", Networking for Financial Executives, and Business Networking for Success.
# # #