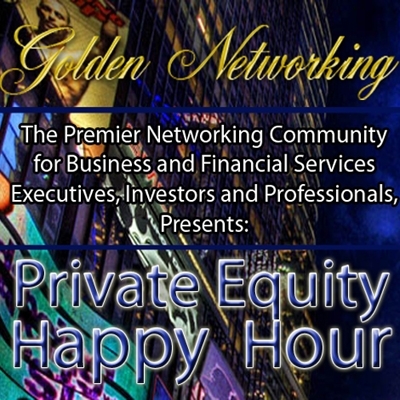 Sillicon Valley Venture firm, Andreessen Horowitz is one of several potential players interested in acquiring a piece of Yahoo! According to the FOX Business Network, while Yahoo! has publicly said it was not for sale, according to numerous sources both inside and outside the company, it has been receptive to the interest and its Chairman Roy Bostock and Co-founder Jerry Yang have spoken to several potential buyers.  Individual and institutional investors attending Private Equity Happy Hour, http://www.PEHappyHour.com, on Tuesday September 20, can discuss the potential Yahoo! bid topic and many others pertaining to the private equity industry. Private Equity Happy Hour receptions are great opportunities for them to speak with unprecedented candidness about their trade, both opportunities and challenges.
Private equity is generally considered equity capital that is not quoted on a public exchange. Private equity consists of investors and funds that make investments directly into private companies or conduct buyouts of public companies that result in a delisting of public equity. Capital for private equity is raised from retail and institutional investors, and can be used to fund new technologies, expand working capital within an owned company, make acquisitions, or to strengthen a balance sheet. 
As referred in Investopedia, the majority of private equity consists of institutional investors and accredited investors who can commit large sums of money for long periods of time. Private equity investments often demand long holding periods to allow for a turnaround of a distressed company or a liquidity event such as an IPO or sale to a public company.
 Private Equity Happy Hour New York City is produced by Golden Networking (http://www.goldennetworking.net), the premier networking community for business executives, entrepreneurs and investors. Upcoming Golden Networking's Forums and Business Receptions include:
• Private Equity Happy Hour New York (http://pehappyhour.com), September 20, New York
• High-Frequency Trading Happy Hour Hong Kong (http://hfthappyhourhongkong.eventbrite.com), September 22, Hong Kong
• High-Frequency Trading Happy Hour Singapore (http://hfthappyhoursingapore.eventbrite.com), September 22, Singapore
• China Happy Hour New York (http://www.ChinaHappyHour.com), September 27, New York
• High-Frequency Trading Happy Hour Chicago (http://hfthappyhourchicago.eventbrite.com), September 27, Chicago
• The Speed Traders Workshop 2011 Chicago, "The Present and Future of High-Frequency Trading" (http://thespeedtradersworkshopchicago.eventbrite.com), October 3, Chicago
• High-Frequency Trading Leaders Forum 2011 Chicago, "How Speed Traders Leverage Cutting-Edge Strategies in the Post-Flash Crash World" (http://hftleadersforumchicago.eventbrite.com), October 3-5, Chicago
• China Leaders Forum 2011 New York, "How American Companies Can Plug into the Chinese Rocket-Propelled Economy?" (http://www.ChinaLeadersForum.com), October 7, New York
• High-Frequency Trading Happy Hour New York (http://www.hfthappyhour.com), October 11, New York City
• The Speed Traders Workshop 2011 Sao Paulo, "The Present and Future of High-Frequency Trading" (http://thespeedtradersworkshopsaopaulo.eventbrite.com), October 24, Sao Paulo
• High-Frequency Trading Leaders Forum 2011 Sao Paulo, "How Speed Traders Leverage Cutting-Edge Strategies in the Post-Flash Crash World" (http://hftleadersforumsaopaulo.eventbrite.com), October 24-26, Sao Paulo, Brazil
• Public Finance Leaders Forum 2011 New York, "Navigating Uncharted Territories After S&P's U.S. Debt Downgrade from its Gilt-Edged AAA Credit Rating" (http://www.PublicFinanceLeadersForum.com), November 9, New York
• The Speed Traders Workshop 2011 Singapore, "The Present and Future of High-Frequency Trading" (http://thespeedtradersworkshopsingapore.eventbrite.com), November 13, Singapore
• High-Frequency Trading Leaders Forum 2011 Singapore, "How Speed Traders Leverage Cutting-Edge Strategies in the Post-Flash Crash World" (http://hftleadersforumsingapore.eventbrite.com), November 13-15, Singapore
• The Speed Traders Workshop 2011 Hong Kong, "The Present and Future of High-Frequency Trading" (http://thespeedtradersworkshophk.eventbrite.com), December 12, Hong Kong
• High-Frequency Trading Leaders Forum 2011 Hong Kong , "How Speed Traders Leverage Cutting-Edge Strategies in the Post-Flash Crash World" (http://hftleadersforumhongkong.eventbrite.com), December, 12-14, Hong Kong