Mark Cox, Director, CME Clearing Solutions, with the CME Group, is featured on Golden Networking's Derivatives Leaders Forum 2010 DVD, "Strategies for Increasing Profits under an Evolving Regulatory Framework" (www.DerivativesLeadersForum.com) , sponsored by UltraHighFrequencyTrading.com.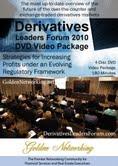 Mr. Cox  has over 12 years of financial services expertise spanning each phase of the trade lifecycle (Pretrade, At-trade, and Post-trade) and extensive experience in clearing including operations, risk management, business system design, settlement, banking and asset management.

He was one of the lead architects of the implementation of the historic clearing agreement with the Chicago Board of Trade in 2003. Since then he has held roles of increasing responsibility in operations, risk management and collateral and settlement functions including the development of CME's Asian and European clearing and market risk functions. Mr. Cox was assigned to New York in August of 2008 to manage the integration of clearing functions as part of the CME Group acquisition of the New York Mercantile Exchange (NYMEX) and Commodities Exchange (COMEX).

From March 2009 to the present, Mr. Cox has served as the director of the New York based CME Clearing Solutions and Services group. The group is responsible for the design and delivery of clearing services for CME's Credit Default Swaps, FX, and Commodity OTC clearing initiatives globally. In that role, Mr. Cox was recently the lead architect for the launch of CME Clearing's Credit Default Swaps clearing solution in December 2009. Mr. Cox is also responsible for all clearing aspects of the CME Group's Global Alliances and support of the development of CME Clearing Europe.

Derivatives Leaders Forum 2010 is produced by GoldenNetworking.net (www.goldennetworking.net), the premier networking community for business executives, entrepreneurs, investors and diplomats, founded by former McKinsey consultant and Columbia Business School MBA Edgar Perez.

Golden Networking has compiled the insights of top experts and industry practitioners and produced DVD Video Packages for its Leaders Forums, including:

•    Distressed Investing Leaders Forum 2009 DVD Video Package, "The Most Comprehensive Guide for Any Investor in Distressed Assets", www.DistressedInvestingLeadersForum.com

•    Distressed Investing Leaders Forum 2010 DVD Video Package, "Extraordinary Opportunities Investors Cannot Afford to Pass", www.DistressedInvestingLeadersForum.com

•    High-Frequency Trading Experts Forum 2010 DVD Video Package, "Starting and Running a High-Frequency Trading Operation", www.HFTExpertsForum.com

•    Hedge Funds Leaders Forum 2010 DVD Video Package, "Generating Alpha in Challenging Times", www.HedgeFundsLeadersForum.com

•    High-Frequency Trading Experts Forum 2010 DVD Video Package, "Innovating and Profiting from High-Frequency Trading in 2010 and Beyond", www.HFTLeadersForum.com

Panelists, speakers and sponsors are invited to contact Golden Networking by sending an email to info@goldennetworking.net. Golden Networking has been frequently featured in the press, including recent articles in The New York Times, "Golden Networking Helps Job Seekers Make Overseas Connections" (www.nytimes.com/2009/11/07/nyregion/07ne...), Los Angeles Times, "Speed-addicted traders dominate today's stock market" (articles.latimes.com/2010/may/16/busines...), Reuters, "Revamp looms as trading experts huddle at SEC" (www.reuters.com/article/idUSTRE6504U8201...; and Columbia Business School's Hermes Alumni Magazine, "10 Under 10" (www7.gsb.columbia.edu/alumni/news/ten-un...).