Jonathan Kanterman, Managing Director of Stillwater Capital Partners, is featured on Golden Networking's Derivatives Leaders Forum 2010 DVD, "Strategies for Increasing Profits under an Evolving Regulatory Framework" (www.DerivativesLeadersForum.com), sponsored by UltraHighFrequencyTrading.com. Mr. Kanterman joins subject experts in panel "Exploring Latest Developments in the Market for Credit Default Swaps", to be moderated by Jeff Schachter, Managing Director, Helios Advisors.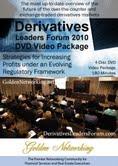 The market for credit default swaps (CDS) has grown exponentially within the last decade. According to the International Swaps and Derivatives Association's historical survey of the size of the CDS market, the marketplace grew from a notional value of around $630 billion in the second half of 2001 to $36 trillion by the end of last year, equivalent to roughly two and a half times the amount of goods and services sold in the American economy annually. Will proposed regulations on derivatives dealers, trading and central clearing reduce risk in the credit default swap market? Should credit default swap trading be restricted when the protection buyer does not have an underlying interest? Will CDS-protected creditors of bankrupt companies be required to disclose their positions? Which steps are necessary to achieve renewed and prudent growth of these products?

Mr. Kanterman has over 16 years of investment management experience. Previously, he was the Managing Director of Valenzuela Capital Partners, LLC., a $2.2 billion money management firm. Mr. Kanterman also served on the investment committee where he headed portfolio review and analysis. Prior to joining Valenzuela Capital Partners, Jonathan was Vice President and Portfolio Manager of Woodford Gayed Management, Inc., where his responsibilities included portfolio management and investor relations for this $1 billion money management firm. Mr. Kanterman also has several years experience in venture capital and equity analysis. Mr. Kanterman earned a Bachelor of Science degree in Finance and Marketing from The University of Miami School of Business. Mr. Kanterman is a coveted speaker and panelist at industry events having recently spoken at the Hedge Funds World Conference, The Family Office & Private Wealth Management Summit and The Global Pension Funds Conference. In addition, Jonathan is often quoted in publications such as Business Week, Financial Times, Asia Times and Alternative Investment News. Mr. Kanterman was recently named one of the "20 Rising Stars of Wealth Management" by Institutional Investor, recognizing industry leaders who are making an impact on wealth management today and expected to shape the industry in the years to come.

Derivatives Leaders Forum 2010 is produced by GoldenNetworking.net (www.goldennetworking.net), the premier networking community for business executives, entrepreneurs, investors and diplomats, founded by former McKinsey consultant and Columbia Business School MBA Edgar Perez.

Golden Networking has compiled the insights of top experts and industry practitioners and produced DVD Video Packages for its Leaders Forums, including:

•    Distressed Investing Leaders Forum 2009 DVD Video Package, "The Most Comprehensive Guide for Any Investor in Distressed Assets", www.DistressedInvestingLeadersForum.com

•    Distressed Investing Leaders Forum 2010 DVD Video Package, "Extraordinary Opportunities Investors Cannot Afford to Pass", www.DistressedInvestingLeadersForum.com

•    High-Frequency Trading Experts Forum 2010 DVD Video Package, "Starting and Running a High-Frequency Trading Operation", www.HFTExpertsForum.com

•    Hedge Funds Leaders Forum 2010 DVD Video Package, "Generating Alpha in Challenging Times", www.HedgeFundsLeadersForum.com

•    High-Frequency Trading Experts Forum 2010 DVD Video Package, "Innovating and Profiting from High-Frequency Trading in 2010 and Beyond", www.HFTLeadersForum.com

Panelists, speakers and sponsors are invited to contact Golden Networking by sending an email to info@goldennetworking.net. Golden Networking has been frequently featured in the press, including recent articles in The New York Times, "Golden Networking Helps Job Seekers Make Overseas Connections" (www.nytimes.com/2009/11/07/nyregion/07ne...), Los Angeles Times, "Speed-addicted traders dominate today's stock market" (articles.latimes.com/2010/may/16/busines...), Reuters, "Revamp looms as trading experts huddle at SEC" (www.reuters.com/article/idUSTRE6504U8201...; and Columbia Business School's Hermes Alumni Magazine, "10 Under 10" (www7.gsb.columbia.edu/alumni/news/ten-un...).