Michael Durbin, Renowned Author on Derivatives and High-Frequency Trading, is featured on Golden Networking's Derivatives Leaders Forum 2010 DVD, "Strategies for Increasing Profits under an Evolving Regulatory Framework" (www.DerivativesLeadersForum.com), sponsored by UltraHighFrequencyTrading.com, and moderate panel of experts on "The Exchange-Traded Derivatives Changing Landscape in 2010 and Beyond"; this panel will be joined by Mark Cox, Director, CME Clearing Solutions, CME Group, Charles Dhanraj, Vice President, Bank of America Merrill Lynch and Elliot Noma, Managing Director, Garrett Asset Management.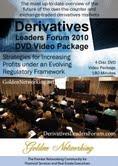 After a decade of unprecedented growth, the exchange-traded derivatives (ETD) industry, traded via specialized exchanges, was subject to a sharp correction during the global financial crisis. Volatility increased and contract volumes plunged. Now many believe the future will see renewed growth, with the increase in the number of exchanges, 24-hour and round the week trading, higher volumes flowing from algorithmic trading, and the continued switch of OTC business securities processes to the central counterparty (CCP) model. Will this steady move inevitably bring more regulatory oversight as well? Which strategies for trading and analysis are now available as a result of new technology and global expansion? Which key areas derivatives traders should be looking at in 2010 and beyond? What new products are exchanges listing?

Mr. Durbin is an author, lecturer and financial technology consultant specializing in high-frequency options and futures trading. He has designed and managed the development of derivative pricing and trading systems for such firms as Liquid Capital Group, Citadel Investment Group, Blue Capital Group and Bank of America. Mr. Durbin is the author of All About Derivatives and All About High-Frequency Trading, both published by McGraw-Hill. He has taught derivatives as an Adjunct Professor at Duke University's Fuqua School of Business and the University of North Carolina's Kenan-Flagler Business School. He earned his MBA in Finance from the University of Chicago and MS in Information Systems from DePaul University, and lives in Washington, DC and Chapel Hill, North Carolina.

Derivatives Leaders Forum 2010 is produced by GoldenNetworking.net (www.goldennetworking.net), the premier networking community for business executives, entrepreneurs, investors and diplomats, founded by former McKinsey consultant and Columbia Business School MBA Edgar Perez.

Golden Networking has compiled the insights of top experts and industry practitioners and produced DVD Video Packages for its Leaders Forums, including:

•    Distressed Investing Leaders Forum 2009 DVD Video Package, "The Most Comprehensive Guide for Any Investor in Distressed Assets", www.DistressedInvestingLeadersForum.com

•    Distressed Investing Leaders Forum 2010 DVD Video Package, "Extraordinary Opportunities Investors Cannot Afford to Pass", www.DistressedInvestingLeadersForum.com

•    High-Frequency Trading Experts Forum 2010 DVD Video Package, "Starting and Running a High-Frequency Trading Operation", www.HFTExpertsForum.com

•    Hedge Funds Leaders Forum 2010 DVD Video Package, "Generating Alpha in Challenging Times", www.HedgeFundsLeadersForum.com

•    High-Frequency Trading Experts Forum 2010 DVD Video Package, "Innovating and Profiting from High-Frequency Trading in 2010 and Beyond", www.HFTLeadersForum.com

Panelists, speakers and sponsors are invited to contact Golden Networking by sending an email to info@goldennetworking.net. Golden Networking has been frequently featured in the press, including recent articles in The New York Times, "Golden Networking Helps Job Seekers Make Overseas Connections" (www.nytimes.com/2009/11/07/nyregion/07ne...), Los Angeles Times, "Speed-addicted traders dominate today's stock market" (articles.latimes.com/2010/may/16/busines...), Reuters, "Revamp looms as trading experts huddle at SEC" (www.reuters.com/article/idUSTRE6504U8201...; and Columbia Business School's Hermes Alumni Magazine, "10 Under 10" (www7.gsb.columbia.edu/alumni/news/ten-un...).