As reported by Calgary Herald, Shamsul Azhar Abbas is just that kind of guy that puts the big in Big Oil. Shamsul, the chief executive of Malaysia's state-owned oil and gas giant, Petronas, made a big splash from Calgary to Bay Street on Monday after revealing to Bloomberg last weekend that his company was looking to make an acquisition in Canada worth more than $5 billion. A Canadian deal would be part of a broader corporate strategy for Petronas to spend $98 billion over five years to replenish its diminishing reserves in Malaysia. Petronas has been reassessing its assets around the world since Shamsul took over in February 2010.Petronas joins Asian companies including PetroChina Co., Mitsubishi Corp. and CNOOC Ltd. in seeking to add North American production, where gas sells for less than 15 per cent of Asian benchmark prices. The biggest Asian investment in the Canadian oilpatch was Sinopec's $4.7-billion purchase of ConocoPhillips' stake in Syncrude Canada in 2010. One risk Petronas and others don't appear to worry about is Investment Canada.Prime Minister Stephen Harper has led a pair of trade missions to Asia already this year that have focused largely on increasing energy ties. On the latest mission, International Trade Minister Ed Fast surprised no one when he said Canada is "very aggressive in removing trade barriers" with Asia-Pacific countries. Harper's government also pledged to accelerate the regulatory review process for projects such as pipelines in its latest budget.In addition to these developments, it has been announced that, for the first time in Malaysia, alternative investment executives and professionals will have the opportunity to attend The Speed Traders Workshop 2012 Kuala Lumpur: How High Frequency Traders Leverage Profitable Strategies to Find Alpha in Equities, Options, Futures and FX, April 12, led by Mr. Edgar Perez, author, The Speed Traders, and former McKinsey & Co. consultant.
High-frequency traders have been called many things, from masters of the universe and market pioneers to exploiters, computer geeks, and even predators. Everyone in the business of investing has an opinion of speed traders, but how many really understand how they operate? The shadow people of the investing world, today's high-frequency traders have decidedly kept a low profile, until now. The Speed Traders Workshop 2012 Kuala Lumpur opens the door to the secretive world of high-frequency trading, the most controversial form of investing today; in the name of protecting the algorithms they have spent so much time perfecting, speed traders disclose as little as possible about how they operate.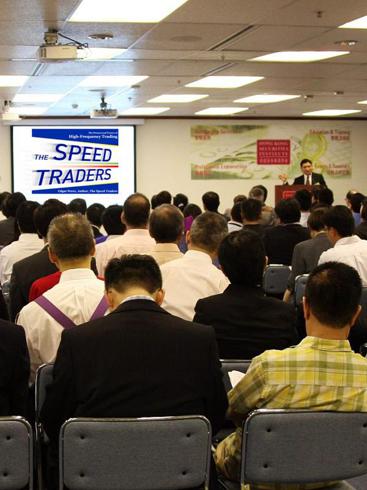 The Speed Traders Workshop 2012 Kuala Lumpur
will reveal how high-frequency trading players are succeeding in the global markets and driving the development of algorithmic trading at breakneck speeds from the U.S. and Europe to India, Singapore and Brazil.
The Speed Traders Workshop 2012 Kuala Lumpur
kicks off a series of presentations in the world's most important financial centers:
Warsaw
, Poland, May 11;
Kiev
, Ukraine, May 18;
Singapore
, May 26;
Beijing
, China, May 30;
Shanghai
, China, June 6;
Jakarta
, Indonesia, June 13;
Mexico City
, Mexico, July 27;
Hong Kong
, August 4, and
Moscow
, Russia, August 10.
Mr. Perez is one of the great business networkers and motivators on the business circuit; he is available worldwide for the following speaking engagements: Present and Future of High-Frequency Trading, The Real Story behind the "Flash Crash", Networking for Financial Executives, and Business Networking for Success.