David Levine wrote in The Huffington Post that high frequency traders are increasingly replacing the traders in traditional stock exchange pits -- those nervous-looking people in vests, furiously hand signaling buy and sell orders in a sort of rapid-fire sign language. But instead of huddling on the floor of an exchange, high-frequency traders sit at their computers tweaking and retweaking algorithms that do the buying and selling electronically far faster than any human can.
He added that the idea behind high-frequency trading (HFT, as it is known) is that if you can buy and sell stocks, bonds and derivatives at the speed of a supercomputer -- literally executing trades by the millisecond -- you can make money off each of the tiny little movements in price. Taken individually, each trade nets only a few pennies. But some high-frequency trading firms can trade as many as 100 million shares in a single day, according to Manoj Narang, who runs such a firm in New Jersey called Tradeworx. Those pennies add up.
Understanding High-Frequency Trading in Equities and other Asset Classes is the first session Mr. Edgar Perez, author of The Speed Traders, An Insider's Look at the New High-Frequency Trading Phenomenon That is Transforming the Investing World (http://www.thespeedtraders.com), will present at The Speed Traders Workshop 2012 Warsaw, "How Algorithmic and High Frequency Traders Leverage Profitable Strategies to Find Alpha in Equities, Options, Futures and FX" (http://www.TheSpeedTradersWorkshop.com), May 11. The Speed Traders Workshop 2012 Warsaw will be extremely helpful for all delegates who are working in finance and investments, from financial institutions, investment banks, hedge funds, pension funds, broker dealers, consultancy groups, prime brokers, solution providers and exchanges, who wish to gain a thorough understanding and practical knowledge of high-frequency trading.
The Speed Traders Workshop 2012 Warsaw, led by Edgar Perez, author of The Speed Traders, will reveal how high-frequency trading players are succeeding in the global markets and driving the development of algorithmic trading at breakneck speeds from the U.S. and Europe to India, Singapore and Brazil.
Mr. Perez is widely regarded as the preeminent speaker in the specialized area of high-frequency trading. He is course director of The Speed Traders Workshop 2012, How High Frequency Traders Leverage Profitable Strategies to Find Alpha in Equities, Options, Futures and FX (Hong Kong, Sao Paulo, Seoul, Kuala Lumpur, Warsaw, Kiev, New York, Singapore, Beijing, Shanghai, Jakarta, London, Mexico City, Moscow, Dubai and Chicago).
Mr. Perez has been featured on CNBC Cash Flow (with Oriel Morrison), CNBC Squawk Box (with Geoff Cutmore), BNN Business Day (with Kim Parlee), TheStreet.com (with Gregg Greenberg), Channel NewsAsia Business Tonight and Cents & Sensibilities (with Lin Xue Ling), NHK World, iMoney Hong Kong, Hedge Fund Brief, The Wall Street Journal, The New York Times, Dallas Morning News, Valor Econômico, The Korea Herald, FIXGlobal Trading, The Korea Times, TODAY Online, Oriental Daily News and Business Times.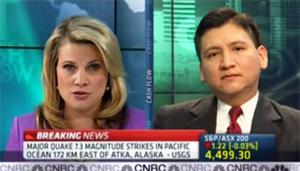 Mr. Perez has been engaged to present to the U.S. Securities and Exchange Commission, CFA Singapore, Hong Kong Securities Institute, Courant Institute of Mathematical Sciences at New York University and Pace University, among other public and private institutions. In addition, Mr. Perez has spoken at a number of global conferences, including Harvard Business School's Venture Capital & Private Equity Conference (Boston), High-Frequency Trading Leaders Forum (New York, Chicago, London), MIT Sloan Investment Management Conference (Cambridge), Institutional Investor's Global Growth Markets Forum (London), Technical Analysis Society (Singapore), TradeTech Asia (Singapore), FIXGlobal Face2Face (Seoul) and Private Equity Convention Russia, CIS & Eurasia (London).
Mr. Perez was a vice president at Citigroup, a senior consultant at IBM, and a consultant at McKinsey & Co. in New York City.
Mr. Perez has an undergraduate degree from Universidad Nacional de Ingeniería, Lima, Peru (1994), a Master of Administration from Universidad ESAN, Lima, Peru (1997) and a Master of Business Administration from Columbia Business School, New York, with a dual major in Finance and Management (2002). He belongs to the Beta Gamma Sigma honor society. Mr. Perez resides in the New York City area and is an accomplished salsa and hustle dancer.