Mr. Edgar Perez, author of The Speed Traders, will present on May 10 for member of the Polish Academy of Sciences in Warsaw. The presentation will be held at the Palace of Culture and Science, a landmark in Warsaw's landscape. Mr. Perez, who will present The Speed Traders Workshop 2012 Warsaw, "How Algorithmic and High Frequency Traders Leverage Profitable Strategies to Find Alpha in Equities, Options, Futures and FX" (www.TheSpeedTradersWorkshop.com) on May 11 at the Warsaw Stock Exchange, is widely regarded as the preeminent expert in the specialized area of high-frequency trading; he is the author of The Speed Traders, An Insider's Look at the New High-Frequency Trading Phenomenon That is Transforming the Investing World (www.TheSpeedTraders.com), published by McGraw-Hill Inc. (2011).
The Polish Academy of Sciences (www.english.pan.pl) is a state scientific institution founded in 1952. From the very beginning, it has functioned through an elected corporation of top scholars and research organizations, via its numerous scientific establishments. It has also become a major scientific advisory body through its scientific committees. PAN as a research center is currently comprised of 79 research establishments (institutes and research centers, research stations, botanical gardens and other research units) and auxiliary scientific units (archives, libraries, museums, and foreign PAN stations).
The Palace of Culture and Science (www.pkin.pl) is the tallest building in Poland and the eighth tallest building in the European Union. Shortly after opening, the building hosted the 5th World Festival of Youth and Students. Many visiting dignitaries toured the Palace, and it has also hosted performances by notable international artists.
The Speed Traders Workshop 2012 Warsaw reveals how high-frequency trading players are succeeding in the global markets and driving the development of algorithmic trading at breakneck speeds from the U.S. and Europe to India, Singapore and Brazil.
Perez has been featured on CNBC Cash Flow (with Oriel Morrison), CNBC Squawk Box (with Geoff Cutmore), BNN Business Day (with Kim Parlee), TheStreet.com (with Gregg Greenberg), Channel NewsAsia Business Tonight and Cents & Sensibilities (with Lin Xue Ling), NHK World, iMoney Hong Kong, Hedge Fund Brief, The Wall Street Journal, The New York Times, Dallas Morning News, Valor Econômico, The Korea Herald, FIXGlobal Trading, The Korea Times, TODAY Online, Oriental Daily News and Business Times.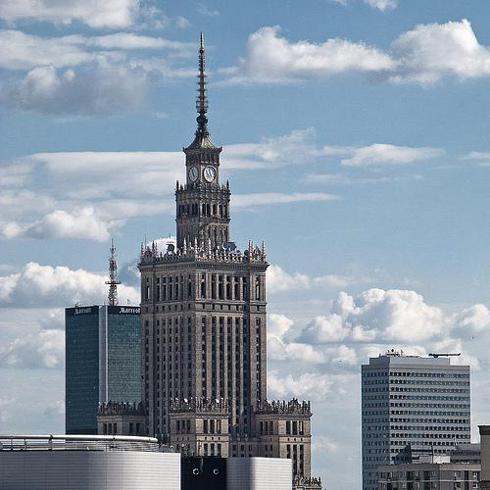 Perez has been engaged to present to the U.S. Securities and Exchange Commission, CFA Singapore, Hong Kong Securities Institute, Courant Institute of Mathematical Sciences at New York University and Pace University, among other public and private institutions. In addition, Perez has spoken at a number of global conferences, including Harvard Business School's Venture Capital & Private Equity Conference (Boston), High-Frequency Trading Leaders Forum (New York, Chicago, London), MIT Sloan Investment Management Conference (Cambridge), Institutional Investor's Global Growth Markets Forum (London), Technical Analysis Society (Singapore), TradeTech Asia (Singapore), FIXGlobal Face2Face (Seoul) and Private Equity Convention Russia, CIS & Eurasia (London).
Perez was a vice president at Citigroup, a senior consultant at IBM, and a consultant at McKinsey & Co. in New York City. Perez has an undergraduate degree from Universidad Nacional de Ingeniería, Lima, Peru (1994), a Master of Administration from Universidad ESAN, Lima, Peru (1997) and a Master of Business Administration from Columbia Business School, New York, with a dual major in Finance and Management (2002). He belongs to the Beta Gamma Sigma honor society. Perez resides in the New York City area and is an accomplished salsa and hustle dancer.