Edgar Perez, Author of The Speed Traders: An Insider's Look at the New High-Frequency Trading Phenomenon That is Transforming the Investing World, Published by McGraw-Hill Inc, Interviewed by CNBC Cash Flow's Oriel Morrison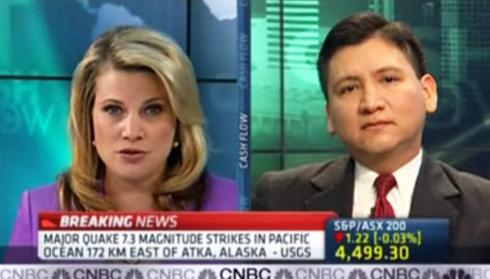 Edgar Perez, Author, The Speed Traders: An Insider's Look at the New High-Frequency Trading Phenomenon That is Transforming the Investing World,spoke with CNBC Cash Flow's Oriel Morrison about the impact high-frequency trading has had in the markets and the criticism it has received (and praise) from different participants; the interview is available on CNBC's website at http://video.cnbc.com/gallery/?video=2023403523.
Oriel Morrison, in particular, asked Mr. Perez about colocation and the role it plays in high-speed trading. "So, on the positive side, Edgar, essentially what are you are saying is that they do provide liquidity in the market. Other proponents of high frequency trading have also said they triple the volume, they reduce the stock spreads, and of course, reduce transaction costs up to a certain point. But there is still the issue about whether or not this sort of trading is fair to the other market players. I mean, you look at what's going on now over on Wall Street when you have colocation, putting their computers as close to Wall Street as possible to reduce the time even further that it will take to get this information to the computers."
Mr. Perez pointed out that colocation services to all brokers, hedge funds, ECNs and exchanges are already offered by exchanges and data centers. "As I mentioned in my book,The Speed Traders, colocation is a big component of high frequency trading. That being said, colocation is a service available to everybody participating in the market.Some of the big institutional investors do the same through dark pools. Some banks do the same through their proprietary businesses as well. Eventually, retail investors will do that too; I would be able to go to any of the services providers there and trade through their colocated machines next to the exchanges. So, while it's true that high frequency traders are characterized for investing quite a bit of money in technology, this style of investing is essentially open to everybody in the industry. Institutional investors are not standing still, they are moving their trading toward dark pools. So, basically, they are also trying to get the best execution using high frequency trading strategies that at some moment were only confined to the high frequency trading world."
The Speed Traders,www.TheSpeedTraders.com, published by McGraw-Hill Inc., is the most comprehensive, revealing work available on the most important development in trading in generations. High-frequency trading will no doubt play an ever larger role as computer technology advances and the global exchanges embrace fast electronic access. The Speed Traders explains everything there is to know about how today's high-frequency traders make millions-one cent at a time."
Mr. Perez is widely regarded as the pre-eminent networker in the specialized area of high-frequency trading. He is the founder of Golden Networking and host of High-Frequency Trading Happy Hour business receptions (www.hfthappyhour.com) in New York City, which have drawn the world's top industry practitioners. He has been interviewed by CNBC, TheStreet.com, Bloomberg and Channel NewsAsia, and engaged as speaker at Harvard Business School's 17th Annual Venture Capital & Private Equity Conference, Columbia Business School's Career Management Center and Alumni Club of New York, High-Frequency Trading Leaders Forum 2011 (New York, Hong Kong, Chicago, Sao Paulo, Singapore), CFA Singapore, and Hong Kong Securities Institute, among others prestigious forums.
Mr. Perez was a vice president at Citi, a senior consultant at IBM, and a consultant at McKinsey & Co. in New York City. Mr. Perez has an undergraduate degree from Universidad Nacional de Ingeniería, Lima, Peru (1994), a Master of Administration from Universidad ESAN, Lima, Peru (1997) and a Master of Business Administration from Columbia Business School, with a dual major in Finance and Management (2002). He is a member of the Beta Gamma Sigma international honor society. Mr. Perez resides in the New York City area and is an accomplished salsa and hustle dancer.
Mr. Perez is one of the great business networkers and motivators on the lecture circuit; he is available worldwide for the following speaking engagements: Present and Future of High-Frequency Trading, The Real Story behind the "Flash Crash", Networking for Financial Executives, and Business Networking for Success.
Disclosure: I have no positions in any stocks mentioned, and no plans to initiate any positions within the next 72 hours.