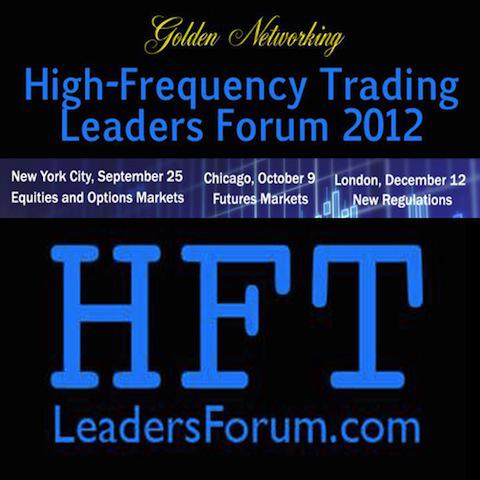 Building off of the momentum of past conferences, Golden Networking brings back High Frequency Trading Leaders Forum 2012, now in New York, Chicago and London (http://www.HFTLeadersForum.com)
Algorithms are becoming more prevalent, faster, smarter, more self-adaptive and geographically distributed and embracing cross asset classes trading and geographies. How will robotic market impact trading, and high-frequency trading in particular? What will be the benefits quants can expect from this evolution? Will there be any disadvantages?
"Robotic Markets: As High-frequency Trading Embraces Robotic Markets Worldwide, how Participants will be Able to Find new Opportunities to Sustain Alpha Creation?" is just one the topics Golden Networking will bring to the attention of experts and practitioners at High Frequency Trading Leaders Forum 2012, this time in three of the world's most important financial centers: New York, Chicago and London.
With insightful keynote speeches and highly regarded panels, everybody involved in high-frequency trading will gain inside knowledge about the latest technologies that can drastically optimize HFT infrastructures and take a first look at upcoming regulations that could radically change the HFT firms' business model. Topics that will be discussed at High Frequency Trading Leaders Forum 2012, "How Traders, Brokers, Exchanges and Dark Pools Navigate the Most Challenging Regulatory Landscape", include the movement toward emerging markets, every time more attuned to the use of bots, the regulatory environment, how new technologies are changing the game, including FPGA applications, and a look at the upcoming regulatory changes that will definitely impact how speed traders capture alpha.
High Frequency Trading Leaders Forum 2012 is produced by Golden Networking (http://www.goldennetworking.net), the premier networking community for business executives, entrepreneurs and investors. Panelists, speakers and sponsors are invited to contact Golden Networking by sending an email to info@goldennetworking.net.