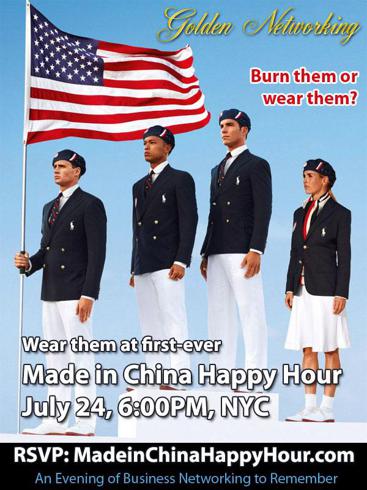 Made in China Happy Hour Will Bring Together Executives, Investors and Entrepreneurs of the Chinese and South Asian Business Communities, for an Evening of Networking and Cocktails in New York City from 6PM to 9PM, July 24
With only two weeks before the London 2012 Olympics Games opening ceremony, it was revealed that U.S. Olympic team's opening ceremony outfits, from head to toe, were entirely made in China. It rapidly sparked an outrage from coast to coast, including the Capital Hill where there is a rare bipartisan agreement.
It is no secret that Ralph Lauren, among many other iconic American companies, outsource their manufacturing and production overseas for economically purposes. So what was the all the uproar about when lawmakers wanted "Made in China" U.S. Olympic uniforms burned? Modestly put, Sprinter Nick Symmonds tweeted ABC News "Outsourcing will always be part of the global economy but the opening Ceremonies outfits? That just seems wrong." Do you agree?
With many Americans still unemployed, should the U.S. Olympic Committee have off-shored American jobs to make uniforms for American athletes in China? Are people over-reacting to this situation? How necessary is it for majority leader Harry Reid to demand the "Made in China" uniforms to be piled up and burned? With only less than two weeks before the opening ceremony, was it rational to have all the uniforms remade? How do you feel about Team U.S.A uniforms being made in China?
Come to Made in China Happy Hour (http://madeinchinahappyhour.com/) "Wear them or burn them?" on Tuesday July 24th to share your opinions and hear what everyone has to say. These receptions have been known to attract executives and professionals not only from China but also from South Korea, Singapore, Malaysia, Indonesia, Japan, and India, among other nationalities. Attendees are proudly welcome to wear their most symbolic "Made in China" outfits for the occasion.
Made in China Happy Hour New York City is produced by Golden Networking (http://www.goldennetworking.net), the premier networking community for business executives, entrepreneurs and investors. Panelists, speakers and sponsors are invited to contact Golden Networking by sending an email to info@goldennetworking.net.