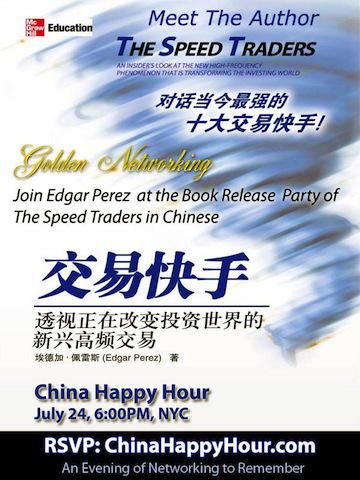 China Happy Hour (http://www.ChinaHappyHour.com) Will Bring Together Executives, Investors and Entrepreneurs of the Chinese and South Asian Business Communities, for an Evening of Networking and Cocktails in New York City from 6PM to 9PM, July 24
Edgar Perez's ground breaking work on high frequency trading, The Speed Traders, An Insider's Look at the New High-Frequency Trading Phenomenon That is Transforming the Investing World (http://www.thespeedtraders.com) is now available in Mandarin, courtesy of Chinese Financial Publishing House. Unlike other works about high-frequency trading, Perez's book provides readers with fresh, candid insight from the industry's top high-frequency trading players.
High-frequency trading (HFT) is the most controversial form of investing today, and speed traders have generally flown under the radar. In the name of protecting the algorithms they have spent so much time perfecting, they almost never talk to the press and disclose as little as possible about how they operate-until now.
The Speed Traders reveals how leading HFT players are succeeding in the global markets and driving the development of algorithmic trading at breakneck speeds.
The Speed Traders includes personal interviews with the masters of the HFT universe, who shed light on what HFT is, the essential role it plays in the world's most active exchanges, and how they generate consistent profits at unprecedented rates and volumes. Among the HFT luminaries you will be exposed to are:
· Manoj Narang, Founder and CEO of Tradeworx
· Adam Afshar, President of Hyde Park Global Investments
· Aaron Lebovitz, Managing Director at Infinium Capital Management
· John Netto, President of M3 Capital
· Stuart Theakston, Head of High-Frequency Trading at GLC
· Peter van Kleef, CEO of Lakeview Arbitrage
·
Mr. Perez is widely regarded as the preeminent speaker in the specialized area of high-frequency trading. He is the author of The Speed Traders, published by McGraw-Hill Inc. (2011) and currently being translated into Portuguese, and course director of The Speed Traders Workshop 2012, How High Frequency Traders Leverage Profitable Strategies to Find Alpha in Equities, Options, Futures and FX (Hong Kong, Mexico City, Moscow, Shanghai, New York and Chicago).
Mr. Perez has been featured on CNBC Cash Flow (with Oriel Morrison), CNBC Squawk Box (with Geoff Cutmore), BNN Business Day (with Kim Parlee), TheStreet.com (with Gregg Greenberg), Channel NewsAsia Business Tonight and Cents & Sensibilities (with Lin Xue Ling), NHK World, iMoney Hong Kong, Hedge Fund Brief, The Wall Street Journal, The New York Times, Dallas Morning News, Valor Econômico, The Korea Herald, FIXGlobal Trading, The Korea Times, TODAY Online, Oriental Daily News and Business Times.
China Happy Hour will be held next Tuesday on July 24th; these receptions have been known to attract executives and professionals not only from China but also from South Korea, Singapore, Malaysia, Indonesia, Japan, and India, among other nationalities.
China Happy Hour New York City is produced by Golden Networking (http://www.goldennetworking.net), the premier networking community for business executives, entrepreneurs and investors. Panelists, speakers and sponsors are invited to contact Golden Networking by sending an email to info@goldennetworking.net.