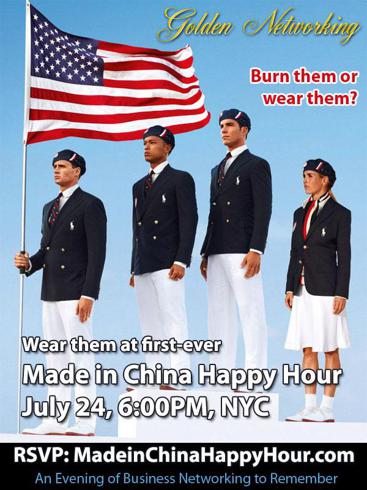 Made in China Happy Hour Will Bring Together Executives, Investors and Entrepreneurs of the Chinese and South Asian Business Communities, for an Evening of Networking and Cocktails in New York City from 6PM to 9PM, July 24
As reported on Fox News (http://fxn.ws/MycdbB), the uproar in the U.S. over the fact the uniforms Americans will wear in the London Olympics were made in China is "hypocritical" and "irresponsible," China's official news agency said Monday.
The Xinhua News Agency blasted U.S. lawmakers for complaining over the made-in-China Olympic blazers, saying the politicians are going against the spirit of the Olympics with their complaints.
"The Olympics spirit is all about separating sports from politics, but these U.S. politicians are going too far and trying to force a political tag onto the uniforms," it said in the Chinese-language commentary according to Reuters.
Xinhua snarkily suggested that all U.S. lawmakers should perhaps be banned from "wearing anything or using any product" that was made abroad - a near-impossible restriction in today's globalized economy.
Do you agree with Xinhua that U.S. politicians crossed the line? With many Americans still unemployed, should the U.S. Olympic Committee have off-shored American jobs to make uniforms for American athletes in China? Are people over-reacting to this situation? How necessary is it for majority leader Harry Reid to demand the "Made in China" uniforms to be piled up and burned? With only less than two weeks before the opening ceremony, was it rational to have all the uniforms remade? How do you feel about Team U.S.A uniforms being made in China?
Come to Made in China Happy Hour (http://madeinchinahappyhour.com/) "Wear them or burn them?" on Tuesday July 24th to share your opinions and hear what everyone in the business community has to say. You are welcome to proudly wear your most symbolic "Made in China" outfit.
Made in China Happy Hour New York City is produced by Golden Networking (http://www.goldennetworking.net), the premier networking community for business executives, entrepreneurs and investors. Panelists, speakers and sponsors are invited to contact Golden Networking by sending an email to info@goldennetworking.net.