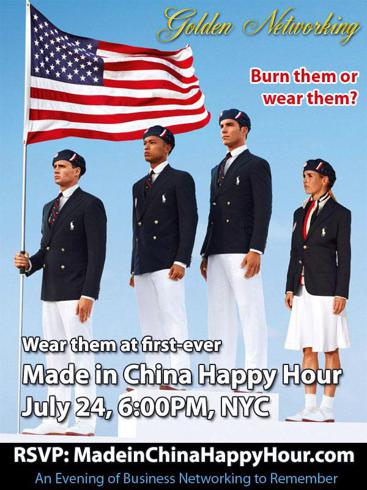 Made in China Happy Hour Will Bring Together Executives, Investors and Entrepreneurs of the Business Communities, for an Evening of Networking and Cocktails in New York City from 6PM to 9PM, July 24
As reported on The Wall Street Journal, Mr. Harry Reid said at a press conference last week, "they should take all the outfits, put them in a big pile and burn them and start all over," furious that Ralph Lauren had chosen not to throw the business at the U.S.'s struggling textile industry. "If they have to wear nothing but a singlet that says USA on it, painted by hand, that's what they should wear."
In response, China's state-run Xinhua News Agency fired back with a commentary condemning the "narrow nationalism and ignorance" displayed by U.S. politicians who oppose the Chinese-made uniforms and citing the importance of "the Olympic Spirit, which has nothing to do with politics" but is instead about "mutual understanding and fair play."
On Monday, Ralph Lauren bowed to the pressure, releasing a statement promising that all future Team USA uniforms will be manufactured in the U.S.
Were Mr. Reid and other critics of the company right in demanding that patriotism trump cost considerations? Or are they guilty of trampling on the Olympic spirit for political gain? With many Americans still unemployed, should the U.S. Olympic Committee have off-shored American jobs to make uniforms for American athletes in China? Are people over-reacting to this situation? How necessary is it for majority leader Harry Reid to demand the "Made in China" uniforms to be piled up and burned? With only less than two weeks before the opening ceremony, was it rational to have all the uniforms remade? How do you feel about Team U.S.A uniforms being made in China?
Come to Made in China Happy Hour (http://madeinchinahappyhour.com/) "Wear them or burn them?" on Tuesday July 24th to share your opinions and hear what everyone in the business community has to say. You are welcome to proudly wear your most symbolic "Made in China" outfit.
Made in China Happy Hour New York City is produced by Golden Networking (http://www.goldennetworking.net), the premier networking community for business executives, entrepreneurs and investors. Panelists, speakers and sponsors are invited to contact Golden Networking by sending an email to info@goldennetworking.net.