RAIZ Invest Ltd - Why This Australian Penny Stock Is Worth Investing In
Please Note: Blog posts are not selected, edited or screened by Seeking Alpha editors.
Seeking Alpha Analyst Since 2021
Private investor since 1997.
Summary
RAIZ Invest (ASX:RAIZ) is an Australian fund manager which provides financial services and products through its micro-investing platform/app.
RAIZ has recently exceeded A$1 billion FUM and is on the verge of breaking even. Plenty of scope for fast growth both in Australia and in Asia (excluding China).
Seven West Media has taken a strategic 6.6% stake in RAIZ via a $10 million placement at $1.60 per share.
RAIZ has also entered the lucrative superannuation market in Australia with a low fee offering (0.34% p.a.), while Australian superannuation managers typically charge three times as much (between 0.88% to 1.24% p.a. on average).
Years of profitable growth ahead will translate into above average shareholder returns for those who get in at an early stage. Recommendation: Accumulate.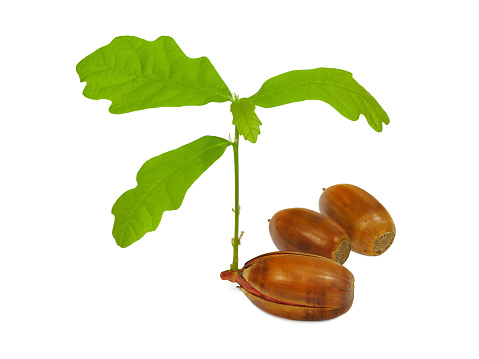 RAIZ Invest is an Australian small-cap, or what Americans call a penny stock.  The current market cap is currently approximately $156.6 millions. Before you ask yourself why you would invest in an Australian penny stock, look up Atlassian and Xero. Both had their humble origins in that part of the world "down under" - although Xero was founded in New Zealand, which is an even smaller market than Australia. However, investors should think of Australia and its neighbor New Zealand as one market when it comes to portfolio exposure. RAIZ is likely going to be a tenbagger, for reasons I will explain here, which is why I highly recommend you take make it a small part of your portfolio, with an allocation that you would usually make to more speculative stocks.
You wont find much information in the American or international press about RAIZ and it has very little (if any) analyst coverage outside of Australia.
What Does RAIZ Invest Do?
Raiz Invest Limited (ASX:RZI) provides financial services and products through its mobile first micro-investing platform which offers its customers an easy way to regularly invest either small or large amounts of money using the Raiz mobile application or through the Raiz website in Australia, Indonesia and Malaysia. RAIZ also claims to deliver the world's first retail fund with Bitcoin. 
The app can be downloaded from the Apple Appstore and is very easy to use. Importantly, on-boarding is unbelievably easy and quick if you have an Australian bank account. This is a good value driver. According to Stephen Scott, a Taylor Collison analyst, "Other drivers of value for Raiz investors include Raiz being low cost, being able to take in low-value contributions, easy to use, the solid underlying performance of the actual investment strategies, and products being true to label (a balanced fund behaves as a balanced fund)."
Historical Financial Performance
Note: All figures are in AUD. Data is from RAIZ preliminary final report except where stated otherwise. The financial year in Australia ends on 30 June.
Funds Under Management
At 30 June 2021, FUM was $799.6m and on 10 November 2021, RAIZ announced that they had hit $1.0 billion FUM, an increase of $200.4m in 4 months, or $50.1m per month. Assuming this rate is maintained, RAIZ should report FUM of around $1.4 billion at 30 June 2022, a whopping 75% growth in FUM year on year. Management has not provided any forward guidance as to FUM, so this is entirely my own extrapolation. Will this correspond to a 75% revenue growth? To answer this question we need to understand the revenue streams. 
Revenue Streams
There are four revenue streams.
| | |
| --- | --- |
| Revenue Stream | Percent of Total |
| Account Maintenance Fees | 65% |
| Account Fees | 15% |
| Advertising Revenues | 14% |
| Bid/Offer Spread | 6% |
There is little prospect of forecasting the future advertising revenues since it is not directly correlated to customer numbers or FUM, although it is showing strong growth (111% year on year) let's be very conservative and assume that advertising will remain steady. The remaining 86% of revenues are directly correlated to the number of customers and FUM.
| | | | |
| --- | --- | --- | --- |
| Revenue Stream | FY21 | Forecast Growth | FY22 |
| Account Maintenance Fees | ~8,708 | 75% | 15,239 |
| Account Fees | ~2,009 | 75% | 3,515 |
| Advertising Revenues | ~1,875 | Steady | 1,875 |
| Bid/Offer Spread | ~803 | 75% | 1,405 |
| Total Revenues | 13,398 | Total Forecast | 22,034 |
By these calculations, I forecast FY22 top line revenue should be just above $22 m, or an increase of approximately 64% year on year. Remember we said no growth in advertising revenue, which is probably incorrect, so there is some further upside from this forecast.
Revenue Per Customer (RPC)
Depending on the exact portfolio selected, RAIZ charges customers a fee of $3.50 to $4.50 per month for accounts under $15,000 and 0.275% per year for accounts over $15,000. The average customer balance at 30/06/21 was $2,558 which translated to average revenue per customer of $62. Now those of you who are good at arithmetic you are thinking I made a mistake and should have written $42 because $3.50 x 12 = $42, so why would average revenue be $62 if the average balance is $2,558? The simple answer is that RAIZ offers a number of different portfolios and it is clear that many customers are investing in more than one portfolio, thus incurring double the fee they would incur if they invested in one portfolio until reaching $15,000 account balance. Another reason is that the superannuation product has higher fees (0.34% p.a.) It is safe to assume that the average balance of each existing customer account will grow. Unless there is a large influx of new customers with very low account balances, we can expect to see steady increases in revenue per customer and indeed the year on year growth FY20 - FY21 was 32%. Assuming customers will maintain regular contributions, I see no reason this rate of growth in Revenue Per Customer will not be maintained which implies further upside to my FY22 revenue forecast.
Also worth noting is that, RAIZ has very low CAC (around $12.00 per customer) and this is what initially alerted me to this opportunity along with the strong FUM growth.
Cashflow, Margins and Profit
Gross margin has improved from 59% to 62% year on year. Based on my earlier revenue forecast, we can expect $13.64 m gross profit in FY22 if this margin is maintained. If expenses are maintained at FY21 level of $16.01 m then the business will reduce its net loss to $2.37m (current loss before income tax $4.73). However, expenses will actually reduce in FY22 due to the investment of Seven Media Group which brings in $8m to be spent on advertising. If we assume a steady deployment of this budget over the next say 5 years, we can forecast a saving of $1.6m in advertising expenses alone. For this reason I forecast the net loss in FY22 to come in the region of ($0.77m) to ($2.37m). So not quite break-even but very close. On these metrics, I expect break-even to occur in FY23 and profitability from FY24. The business is probably already cash-flow positive in Australia and is channeling investment into opening new markets, once these contributions from the new business units start to flow through, the effects on cashflow should be significant. Achieving profitability will be a huge catalyst for share price growth.
Balance Sheet
Even if the Australian business is cashflow positive, we don't want the company as a whole to run out of cash before it starts turning a profit. Fortunatelym RAIZ had a healthy $19m in cash and equivalents at 30 June 2021. With the further cash injection of $2m by Seven West Media as part of it's recent $10m investment, the balance sheet is healthy and gives plenty of runway.
Competition
The closest competitor to RAIZ is Spaceship Capital - which is currently a privately owned company. Both RAIZ and Spaceship have a great, modern and user-friendly investing app. This is where agile companies like these really win against large, established players such as banks and investment managers who often rely on legacy systems and platforms not appealing in the mobile-first era. Both RAIZ and Spaceship charge similar, low fees and both have launched a superannuation fund (more about this below).
As at 1 December 2021, on the Apple APP Store, RAIZ has about 22,000 downloads while Spaceship has about 4,800 downloads.t For a mobile-first investment platform, this is a very important statistic to take note of and something you won't find in the annual report - it always pays to do a bit of digging around on your own!
RAIZ comes out ahead from an investor's point of view for three reasons right now. First, because of the app download statistics. Secondly, because you can't buy shares in Spaceship Capital as it is a private company, there are rumours of an IPO but nothing yet. Lastly, due to the successful entry into very large new markets.
International Expansion
RAIZ has already made excellent progress in overseas markets in Indonesia and Malaysia and is currently working on expansion in Thailand and Vietnam. These are great opportunities and by expanding across multiple jurisdictions, the company greatly reduces regulatory risk.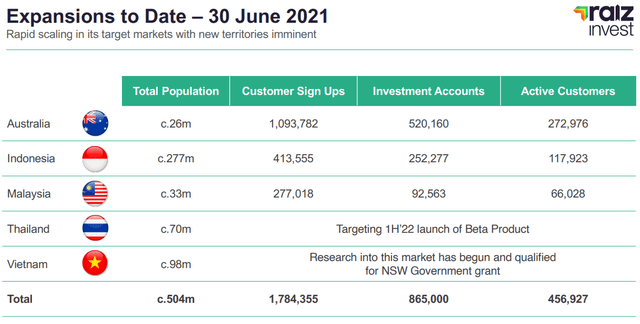 RAIZ is successfully entering large markets in South East Asia.
Superannuation Opportunity
For years Australian investors have been paying too much in management fees for superannuation funds. It is compulsory for employers to contribute a percentage of the total salary to their employee's superannuation accounts each month, this is known as the superannuation guarantee.  The compulsory contribution rate is currently 10% per annum. Superannuation guarantee legislation states that super payments will increase a further 0.5% each year until they reach 12% in 2025.  Australians have handed at least $362 billion in fees to the funds management industry over the past two decades for the management of these compulsory accounts. Australia's 13.5 million super fund members still pay $2,400 on average each year in fees, the equivalent of the average household energy bill. According to Canstar, on average, people in the default investment option pay between 0.88% to 1.24% of their account balance in fees per year. Fat fees and a captive audience since 1992 have made even mediocre fund managers a ton of profits. RAIZ Super with its 0.275% per annum fees is sure to attract good inflows. Vanguard has also taken notice of this opportunity and Vanguard is set to launch their own low-cost super fund in 2022. I expect RAIZ Super to grow slower than RAIZ Invest's other products due to the sticky nature of superannuation accounts, but in time I expect RAIZ Super to do very well, there is already more than $100m FUM less than three years since launch.
Historic Share Price Action and Valuation
Morningstar values the business at $2.17 (as at 26/11/2021). Seven West Media just invested $10m at $1.60 per share. The RAIZ IPO price in 2018 was $1.80. I am not going to put much faith in the valuations at this stage as the business is small and at such an early stage as a public company. I am content to invest for the fast growth and because the strong balance sheet gives me comfort that the business will become profitable before it runs out of cash. With strong growth in FUM leading to my estimation of forecast revenue growth of 64% in the current financial year, I see the current share price of around $1.80 as an attractive entry point.
Analyst's Disclosure: I/we have a beneficial long position in the shares of ASX:RAIZ either through stock ownership, options, or other derivatives.
Seeking Alpha's Disclosure: Past performance is no guarantee of future results. No recommendation or advice is being given as to whether any investment is suitable for a particular investor. Any views or opinions expressed above may not reflect those of Seeking Alpha as a whole. Seeking Alpha is not a licensed securities dealer, broker or US investment adviser or investment bank. Our analysts are third party authors that include both professional investors and individual investors who may not be licensed or certified by any institute or regulatory body.