Changing The Face Of eCommerce
Please Note: Blog posts are not selected, edited or screened by Seeking Alpha editors.
Summary
There are two analysts covering Verb stock with $4 & $5 price targets. Both targets are 100% higher than Verb stock is today and do not factor in short-term catalysts.
Few understand that this micro-cap company, Verb, is right at the forefront in reshaping eCommerce with its new Live-Stream selling tools.
Verb provides a complete integrated platform for live and static video selling through its Verb-Live, Verbmail, and its pending Verb-Marketplace products.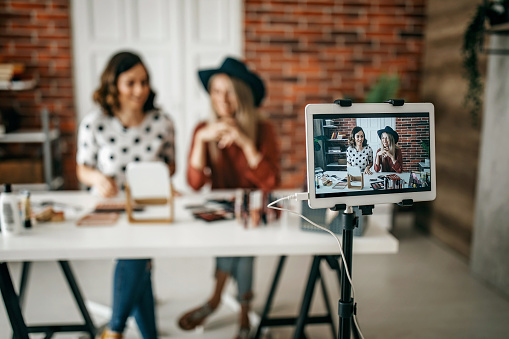 Verb
Verb is a relatively unknown sales tools company that is planning to reshape the eCommerce industry by utilizing its proprietary interactive video technology. Below is a brief description taken from the company information page:

For the last couple of years, Verb's main product has been its CRM app. The differentiator of their app is that clients could take pre-recorded videos and add interactive buy now buttons right in the video. Verb offers a customizable white label product to their large enterprise clients and also serves small businesses with a self-onboarding standard version called VerbTeams
If you look at the numbers on Verb's financial reports your first instinct might be to pass. On the surface, Verb burnt through cash, reported low revenues, and funded the majority of operations with stock offerings. However, Verb has been in research and development mode, bringing products to life that I expect will transition them from micro-cap to a billion-dollar market cap company. Verb calls these products their Hyper Growth Initiative. Allow me to tell you about Verb's new products, detailing their functionality, and then we'll go over the catalyst that will make the stock fly.
VerbLive
VerbLive is the 1st product belonging to the Hyper Growth Initiative. Clients using Live can host their own interactive live-stream eCommerce events over the internet. A live stream eCommerce show is similar to the Home Shopping Network, but the audience can ask questions, socialize and provide feedback via the chat feature. Although Verb already has a presence in medical and its largest clients have been retailers, live selling has significant potential to spread throughout other industries such as real-estate and new/used car sales. The availability and impact of live-video selling opens avenues and allows the seller to reach markets they would've otherwise missed. 
The popularity of live-streaming in China has exploded, with the gross merchandise value in sales reaching $150bn in 2020, and is expected to reach $305bn in 2021, according to KPMG. That U.S market has been slow to catch on with its 2021 GMV estimated to reach $11bn up from $6bn in 2020. If the live stream market in China is any guide, the U.S could be at the beginning of a new $100bn eCommerce category with Verb as a first mover.
Although Verb clients that are hosting events using Live are reporting significant growth in their sales conversions, the Live product was not fully penetrating client organizations. Only small subsets of employees were electing to pay for the live feature. Verb realized that not everyone wants to be in front of a camera and developed the feature Team Attribution for just that.
Team Attribution allows one employee to refer their contacts to watch another employee's live-stream event and get a commission for those sales. This feature expands the total addressable market of VerbLive to every sales agent with a contact list. Think of this scenario. Company ABC has 20k sales agents, the company provides them Verb CRM free of charge, but the employee must pay some or all of the cost for the Live feature. Approximately 5k out of the 20k pay for Live as they are great in front of the camera and Live is enabling them to sell more products than they have ever sold before. Verb realizes they must find a way to capture the lost revenue from the other 15k sales agents. Team Attribution allows every single one of those 15k sales agents to profit from Live, by referring their clients to watch a co-worker's live stream. Verb will track where all the sales originated and assign commissions accordingly.
Attribution is not only increasing the penetration rates of Live with the clients Verb already has, but is also attracting large new enterprise clients to the platform. Most notable, Verb's first million-dollar annual account was opened with Market America. "We began launching paying clients on VerbLive with Attribution. I'm talking about large, multinational clients at the end of June or beginning of July," said Rory Cutaia, during Verb's Q2 earnings call. For further understanding of Attribution watch the presentation here.

One extension off of Team Attribution to eagerly watch for is when the Attribution feature expands not only for employees of the same company but for everyone. When a person who has 10k Twitter followers can promote a stranger's live stream and be compensated for it. I believe we will see that feature out of Verb very shortly. Imagine the impact when shopping becomes truly social and anyone can share live-stream channels and get a piece of the action? Imagine the efficiency and impact on social influencers. That is where Verb is going and Attribution will give Verb clients global reach.
VerbMail
Verb's next product delivery touched the 3rd most common way of communication, email.


During 2020 there were over 300 billion emails sent and received every day. It is a primary way to communicate and capture eyes when marketing or selling a product. Rounding out their product portfolio, VerbMail is an interactive, video email integrated through Microsoft Outlook. Interactive is what differentiates it from the competition. VerbMail is the only video email that I know where the sender can place interactive buy now buttons right in the video enabling prospects to purchase the product right then and there while interest is at its peak.
VerbMail debuted in July to Microsoft's AppSource. You can try the free version for yourself here. Verb recruited a top Microsoft Channel Sales Director with 30 years of experience in channel sales to lead a new team with the go-to-market strategy of the enhanced version of Verbmail. The enhanced version has features such as notifying a sales agent when the email is being watched and allowing the sales agent to let the prospect know that they are available to answer questions. Verb can even connect a 2-way video call or a regular call if the prospect desires. That is of course if the prospect didn't click the buy button as the video was playing, qualities that no other video email products process.  The new director began their position in August and is preparing for launch. VerbMail plays an important part in Verb's expansion strategy in more ways than one, which we will elaborate on during the catalysts section. You can watch the demo for VerbMail here.
VerbPulse and VerbLearn
Pulse is the third product of the Hyper Growth Initiative to be released during the end of Q2. Companies providing Pulse to their sales force will expedite learning curves shortening the time it takes for a sales agent to become a contributor to the organization. Verb created Pulse by utilizing years of acquired data of what successful agents on Verb CRM have done to sell their products. Pulse will tell the agent what to do next in every client situation based on the status and the history of their interactions.
Every sales department has that superstar sales agent. A person not only meeting but exceeding quota every time. Verb has collected data from successful agents to create Pulse, an artificial intelligence product that will aid in turning everyone into a rising star.
Companies profit when employees do well, but they also save on expenses when employees have longevity. If an employee is unsuccessful, they usually end up quitting. According to Work Institute, voluntary employee turnover cost exceeded $630bn last year. The employment cycle can be a sizable expense for companies with a lot of turnovers. There is recruitment cost, training cost, and when positions are vacant, there is a loss of productivity cost. Those costs make up the $630bn mentioned earlier. A portion of current Verb clients had the opportunity to sample Verb's new products before anyone else. These clients are reporting significant increases in their sales conversion and significant increases in employee retention. Verb has made a series of products that all complement each other to create a successful sales agent. Pulse
Statistics show that successful sales agents know everything there is to know about the products they sell. The greater the agent's knowledge, the easier it will be to articulate the benefits, rebut objections, and sell the product. The more the agent knows about the company they work for, the higher the level of trust they can build with their prospects. Verb has a platform called Learn to expedite the process of employee education. The platform utilizes gamification to make learning everything the employee needs to know about their job fun. VerbLearn
Catalysts and Contracts
We are finally to the section where I get to tell you why I am so excited to buy Verb at $2 and the reasons I think it could easily cross $10 before year-end. Applying multiples of other SaaS companies the stock could be $50 as co-sell and marketplace achieve saturation.
I do have to tell you that  Verb has an open at-the-market offering for a total of $18mm. Verb is planning an accretive acquisition in which Verb might use the money. Despite any small dilution, I think the market will see the acquisition as a positive. Truist Financial is their advisor on both deals. Verb had $8mm cash and with all the new contract fees coming in, they are in great shape. Let's take a look at these catalysts.
 In August, Verb announced a partnership with NewAge, an international direct-to-consumer company with hundreds of thousands of distributors. After a recent merger and a sizable acquisition, NewAge has decided to upgrade the sales tools that they provide to their distributors. "We are also excited to provide shoppable live streaming capability in Japan and other international markets, as we believe it is a game-changing approach to social selling." "We support our Brand Partners in every possible way to increase their sales conversion rates with more effective follow-ups and better customer engagement, and believe that VERB is best in the world to enable it," said Brent Willis, CEO of NewAge. The new app will be available in 10 languages, serving up to 600k distributors in 75 countries going live during September. NewAge revenue is on a run rate to make over $500mm for the forward twelve months. The press release did not include financial terms. However, it appears that Verb is including the CRM, Pulse, and Learn for up to 600k NewAge reps for free or most likely under a corporate license. Then the reps can separately subscribe to VerbLive with Attribution for $9.95 per month. The adoption rate of VerbLive/Attribution would determine the ultimate financial impact of the deal. I expect a high adoption rate, especially because of the attribution feature. The contract is for 600k distributors, if only half of the distributors adopt VerbLive the financial impact is significant, bringing in over $8.9m per quarter and almost $36m per year. pr/NewAge
Google Integration. According to management, before the end of the year, VerbMail will be integrated with Gmail. Gmail has over 1.8bn users and over 6mm businesses paying for Google Workspace. These users will soon be able to utilize VerbMail, expanding the TAM for VerbMail.
Microsoft co-sell program. VerbMail is in the process of being admitted to the Microsoft co-sell program. "Microsoft was talking about putting our application in their product catalog and making it available to their value-added resellers around the world," said Rory Cutaia during the Q1 earnings call. There are more than 200k Microsoft resellers. Once Verb is in the program, those resellers become incentivized to sell VerbMail to their 365 Enterprise clients. On average, Verb executes 15 contracts a quarter. As a result of being admitted into the program, that number should easily double, triple or quadruple. We are not only talking about subscriptions for VerbMail either. If the enterprise is interested in video technology and live-streaming the cross-selling into Verb's other products will be easy.
That means a client subscribes for VerbMail and ends up subscribing to the entire suite of Verb products. The co-sell catalyst is not included in the price targets for Verb as there is no way to model the revenue contribution. Rory expects to be admitted into the co-sell program before year-end. Every sophisticated investor and analyst understands what the program could mean for Verb. We would most likely see immediate, sizable, increases in price targets and new analysts initiating coverage.
 Marketplace isn't a product. Marketplace is the codename for a platform that Verb has had under development for the last year. A virtual shopping mall "that's fun, it's entertaining, it's social, it's super engaging, that you will want to go there even if you don't need to buy anything," described by Rory, the Ceo of Verb.
Analysts believe there are big names already signed on to participate in the online mall. The platform is currently in beta, soft launch, with approximately 40 retailers hosting invite-only live stream eCommerce events, while Verb tweaks and puts on the finishing touches. Once Verb feels Marketplace is ready for The Grand Opening, Shoppers will be able to go in and out of events, interact with each other, and whatever else Verb has planned as the main attraction.
I believe this will be Verb's flagship. Online eCommerce sites eBay, Overstock, Wish.com, and mighty Amazon have market capitalizations in the billions of dollars. Verb executing on Marketplace could accelerate them into that peer group. Similar to Microsoft co-sell, Verb Marketplace is not factored into analysts' price targets as the platform has yet to be released. Verb is due to launch the online mall via "a pretty big launch event," before the end of the year. Prior to the Marketplace launch, there is an event VerbLit you will not want to miss.
Lit, an acronym for Leading Integrated Technology, is scheduled for October 7th from 4 to 6 pm. You can register here. "If you enjoy watching Apple product launches, you'll love verbLit," said Rory, CEO of Verb. Please register by Friday, September 24th. During the Q2 earnings call, Rory said, VerbLit will showcase their latest products, introduce some of the people behind the technology and hear from clients on their experiences with Verb.
People following Verb for the last couple of years could say Verb has been a terrible stock to own and not much of a company, and they would be right. However, I do not buy stocks when they are at the beginning of their research and development phase. I buy them as they start to monetize their new products. That is where Verb is, ready to transition from bad to great. Over 20 years of investing, I don't believe I have ever seen a stock with this many significant catalysts before. The products Verb has created are being called their Hyper Growth Initiative. That is the perfect title for these new products. That is what I believe we are about to see from Verb, Hyper Growth.
Here is a link to the Verb CEO interview. 
Analyst's Disclosure: I/we have a beneficial long position in the shares of VERB either through stock ownership, options, or other derivatives.
I wrote this article myself, and it expresses my own opinions. I am not receiving compensation for it (other than from Seeking Alpha). I have no business relationship with any company whose stock is mentioned in this article.
Seeking Alpha's Disclosure: Past performance is no guarantee of future results. No recommendation or advice is being given as to whether any investment is suitable for a particular investor. Any views or opinions expressed above may not reflect those of Seeking Alpha as a whole. Seeking Alpha is not a licensed securities dealer, broker or US investment adviser or investment bank. Our analysts are third party authors that include both professional investors and individual investors who may not be licensed or certified by any institute or regulatory body.