The preliminary results of the 2012 Iowa Farmland Ownership Survey compiled every five years by Iowa State University on behalf of the Iowa Legislature show that 62 percent of Iowa farmland is now owned by farmland investors and other non-farmers, up from 60 percent in the 2007 survey and 55 percent in 2002, constituting over a 10% fall in farmer ownership over the last decade.
The survey also shows how cash rent leases have become more popular over time whilst crop share leases have become less common. This may reflect a preference for fixed income returns amongst non-farmer owners.
Figure: Distribution of Iowa Farmland by Type of Operator Tenure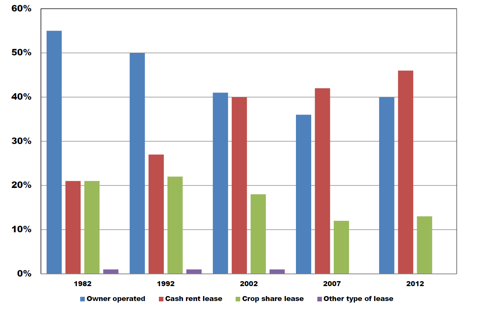 Source: Iowa State University, 2012
Although the preliminary results are do not state exactly what proportion of farmland is owned by investors, a previous report on farmland ownership published in 2011 by the same author, Professor Michael Duffy of Iowa State University, found that approximately of all farmland purchased in Iowa is purchased by investors.
Figure: Investor versus farmland purchasers of Iowa farmland from 2011 paper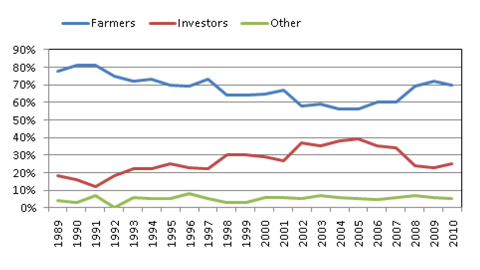 Source: Iowa State University, 2011
Investor interest has remained strong in recent years because, in the words of Duffy:
The collapse in the urban real estate market and the drop in interest rates caused many investor and fund groups to look to farmland as an alternative investment opportunity, increasing the demand for farmland.