The Flurry Analytics report on Android and IOS activations hasn't gotten much press. It was mentioned in Market Currents on December 29th, but looking closer may have unearthed some nuggets for AAPL investors.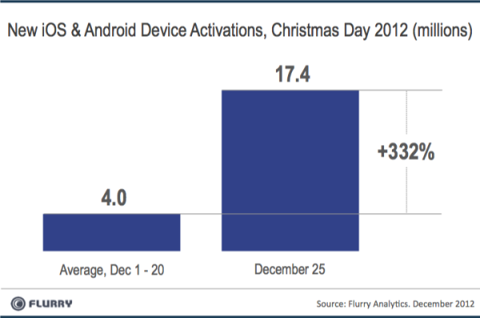 According to Flurry: 17.4 million total devices were activated on Dec 25, 2012. Also, from Dec 1 to Dec 20, the average number of devices activated was 4 million per day. Is it too aggressive to assume 4 million per day for the other 10 days in December? If so, approximately 137.4 million devices were activated in December.
Now it gets interesting...
For the 30 normal days, Flurry says smartphone activations were 4:1 versus the tablets. On Chrismas, 51% of the activations were tablets!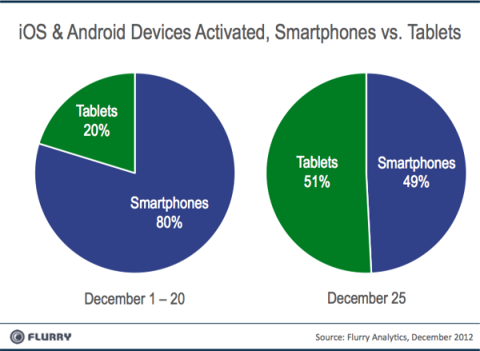 This would imply that 8.9 million tablets were activated on Christmas Day, and 24 million tablets were activated on the other days. That would be 32.9 million tablets in the month of December.
John Gruber retweeted this link from Andy Baio about first tweets on Christmas Day.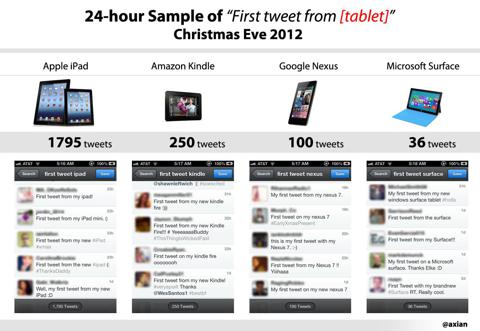 If these numbers are correct, 78.5% of the tablets activated were iPads. So, that would be 25.8 Million iPads activated in December.
There could be many devices sold in October and November which were activated in December, but since many analysts have predicted 25 million units for the entire quarter, this is encouraging data.
blog.flurry.com/bid/92719/Christmas-2012...-Records
Disclosure: I am long AAPL.