Introduction
China Botanical Pharmaceutical Inc. (NYSEMKT:CBP) exists currently as the understudy to the lead actor - patiently waiting in the wings for their time to shine. Despite EPS rising year-over-year, this stock exists as one of the most undervalued shares currently trading on the US markets. CBP clearly has the fundamental groundwork to be trading at significantly higher levels than what the current market is offering. They have all the wherewithal of their counterparts, but have yet to be thrust into the limelight and allowed their moment of glory.
As Warren Buffett has famously said;
"It's far better to buy a wonderful company at a fair price than a fair company at a wonderful price."
This is certainly the case when it comes to CPB, and investors should be paying very close attention to this rising star for 2013.
Company summary
China Botanic is a leading producer of all-natural plant-based botanical, biopharmaceutical (sic) and traditional OTC drugs.
China Botanic, formerly known as Renhuang Pharmaceuticals, Inc. was founded in 1996 in Harbin, Heilongjiang province in Northeast China. In September 2006, the Company became a US listed public company through a reverse merger and began trading on the Over the Counter Bulletin Board under the ticker symbol "RHGP". On July 2,2010, the company began trading on NYSE Amex under the ticker symbol "CBP". Our new name reflects our commitment to research and deliver healthy and effective medicinal solutions from nature, with none of the harsh side-effects associated with chemical drugs.
Company overview
The Company offers three major product lines including Siberian Ginseng (Acanthopanax) based natural medicinal products, biopharmaceutical (sic) products, and over-the-counter (OTC) Traditional Chinese Medicines (TCMs), representing roughly 71.3%, 5.1%, and 23.6%,respectively of total revenues. China Botanic 's key product line is the Siberian Ginseng (Acanthopanax) based product series, a natural medicine effective in treating depression, melancholy, and other nerve regulating products. With control over an estimated 70% of China's natural raw materials of Siberian Ginseng (Acanthopanax), the Company possesses a sustainable competitive edge and, therefore, commands a dominant market position in Siberian Ginseng (Acanthopanax) based products.
China Botanic has established a multi-channel research and development infrastructure composed of in-house researchers and a government approved post-doctoral work station … The Company has achieved significant progress in the research and development of standard extraction and separation of effective components.
China Botanic has three manufacturing facilities producing over 200 types of nutritional and medicinal products in various forms. The Company strictly follows the international Good Manufacturing Practices ("GMP") and all of the manufacturing facilities are GMP certified quality processes and systems by utilizing cutting-edge technologies, state-of-the-art equipment, and proprietary innovative and award winning processes.
Financials
Third Quarter Fiscal 2012 Highlights
Net sales increased 21.8% year over year to $15.1 million
Gross profit increased 19.0% year over year to $8.9 million with gross margin of 58.9%
Operating income increased 26.8% year over year to $3.8 million with operating margin of 25.1%
Net income rose 29.2% to $3.3 million, or $0.09 per diluted share, from $2.5 million, or $0.07 per diluted share, in the third quarter of fiscal 2011
In July 2012, China Botanic was granted a new patent on its advanced proprietary Schisandra Lignin extraction method
(http://finance.yahoo.com/news/china-botanic-reports-third-quarter-203000206.html)
Financial condition
As of July 31, 2012, China Botanic had cash of approximately $41.3 million and total current assets of approximately $73.9 million. The Company had working capital of approximately $67.1 million on July 31, 2012, as compared to $40.8 million at the fiscal year ended October 31, 2011. The Company had no long-term debt on its balance sheet at the end of July 31, 2012. Shareholders' equity stood at $124.0 million, compared to $99.7 million as of October 31, 2011. Net cash flow from operating activities for the nine months ended July 31, 2012 was $25.2 million compared to $26.4 million for the same period of 2011.
Business outlook
For fiscal year 2012, China Botanic reaffirms its guidance of revenues of between $91.6 million and $93.1 million, representing an increase of 26% to 28% over fiscal year 2011 revenue of $72.7 million. The Company expects net income to be in the range of $32.7 million to $33.2 million, representing an increase of between 26% and 28% over fiscal year 2011 net income of $25.9 million.
Progress and growth
Earnings per share (NYSEARCA:EPS) have continued to experience steady growth over the past 4 years.
| | |
| --- | --- |
| Fiscal Year | EPS (USD $) |
| 2009 | 0.31 |
| 2010 | 0.35 |
| 2011 | 0.58 |
| 2012 | 0.78 |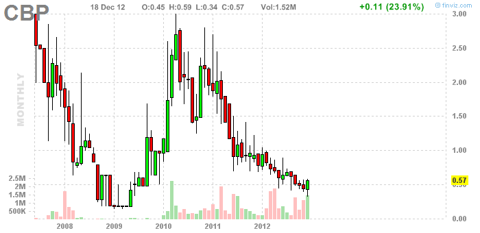 Revenue - 85.08m
Net Income - 28.78m
Shares outstanding - 37.24m
Free float - 15.09m
P/E - 0.60
Market cap - 18.1m
EPS - 0.78
Gross margin - 58.30%
Net profit margin - 33.83%
Operating margin - 40.31%
Cash flow per share - 0.7995
Book value per share - 3.33
Outlook
Mr. Shaoming Li, Chairman and Chief Executive Officer of China Botanic states;
"With our intensive sales and marketing efforts, we are expanding our distribution network throughout the PRC, improving our market share and raising awareness of our products. During the quarter, we experienced increased demand in all product categories and going forward we anticipate particularly strong demand for our leading Siberian Ginseng series products. We anticipate that we will be successful in becoming one of the PRC's essential medicine suppliers as the PRC government moves forward with its Health Reforms in 2012"
"Our research efforts, Ah City expansion project and recently acquired new patents pave the way for our longer term growth and success. We continue to invest in development of Siberian Ginseng cultivation and extraction of effective components of this plant to develop new products and enhance our existing product portfolio. We expect Ah City Phase Two project to be completed at the end of 2013 to support our growing market demand, new product introductions and market expansion."
Positive Factors
Historically, Chinese companies listed on the US exchanges were not rigorously audited. With new agreements put in place by American regulators , this no longer remains a mitigating factor. These new measures put in place allow for greater peace of mind on the part of investors, leading to increased interest in these reemerging markets.
(http://www.theaccountant-online.com/news/china-tightens-audit-regulations)
(http://www.nytimes.com/2012/10/10/business/global/us-reaches-auditing-deal-with-china.html?_r=0)
"Economic indicators for November show that China's economy is starting to recover, although headwinds from the global economy have remained," James Glenn notes, Asia Economist for the National Australia Bank, adding: "We have kept our forecast for China's GDP growth at 7.7% in 2012, and expect growth to pick up in 2013 as recent policy stimulus gains more traction," the economist concludes, in a research note to clients. (http://www.fxstreet.com/news/forex-news/article.aspx?storyid=559b9588-9d4f-420b-b1eb-6a3fd5399dfd)
Conclusion
China Botanical Pharmaceutical Inc. currently trades at a P/E ratio of less than 1 (0.60). Any US company with a similar financial position to that of CBP - cash-flow positive, NO DEPT, reporting positive earnings on a quarterly basis, and issuing a bullish outlook - would easily be trading at multiples of 10 to 15X EPS. When you do the math and one applies the same principles to CBP - should they receive the same advantageous exposure of these companies - then it becomes easily apparent the potential value of this stock. CBP, trading under AMEX, lacks the recognition it deserves - it is a Chinese company, trading on an exchange that is not widely examined, in a segment that remains on the fringes of traditional investment. This poses a tremendous advantage for potential investors, as it allows for the exploitation of the current market limitations this company is experiencing.
Putting short or long term targets on CBP is difficult momentarily as it has yet to achieve its full potential of where it could easily be trading considering their financial condition and outlook. Although I am hesitant to put specific PPS targets for this company, it remains that CBP is currently heavily devalued and could possibly see new all-time highs during their 4 year history trading on the AMEX market should the street awaken to this grossly undervalued offering, then the upside potential could be substantial.
Disclosure: I am long CBP.