Just imagine everyone is scared and sells off the world equity markets but the best indicator of the European market stability the Euro is not even inspired! What is going on? Spain is blamed for the whole equity market mess. Investors are worrying about further defaults in Euro-zone. Spain could become next Greece with fatal impact on Europe and global financial system. But Euro is not weakening!
Investors are fleeing for the safety of the German fortress pushing short-term interest rates along the whole cure to new lows. Suddenly German rates in the area between 3 months and 2 years are lower than Japanese rates. The main question everyone is asking is Germany going to be the next Japan? However, the right question to ask is will Euro continue to gain strength as global financial markets may substitute Japanese Yen as funding currency and begin to prefer Euro?
Look at the following chart of the Euro. This is definitely not a chart of a currency which is about to implode and devalue dramatically against all other major currencies in the face of sovereign debt disaster.
Euro vs. USD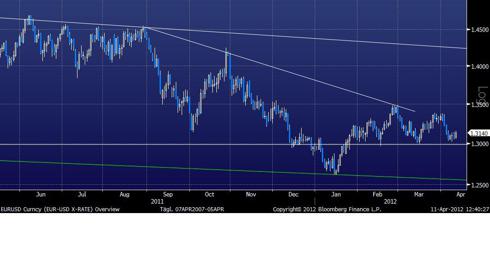 Source: Bloomberg
The 1.30 area against USD continue to be great support and the relationship between stock and Euro broke. Euro remains well bid but equity sells-off in the face of a ghost of a default threat. If my assumption proves correct we could see Euro stay strong despite market turmoil and worries about sovereign default. Low lending rates in Germany are a stark contrast to the rest of Europe. Markets are always proving the majority of investors wrong.
It clearly needs to be seen if Euro becomes the next funding currency to play global carry trades. This may be a beginning of Euro strength unexpected by any investor.