European election weekend adding to pressures and derailing equity markets on Friday. The Euro dropped against most currencies particularly US-Dollar and British Pound. Rumours abound what will happen next. Between all those news of doom and mayhem there appears to be steady quiet spot in the equity markets which continue to perform untouched by any market turmoil.
Food and Beverage sector in Europe is booming. Since the equity market bottom of 2009 it did not stop to outperform the European markets. It is not only the outperformance of the weak Europe which is so surprising but also leading role globally. European consumer companies continued to expand on the global growth theme. Emerging Markets all over the world are creating new consumer demand for staples of any kind from coke and beer to dairy products, cookies and bread.
European companies with world famous brands succeeded to expand year after year into those areas and continued to grow. The growth in Emerging Markets unsurprisingly eclipses the European growth. The portion of sales of those companies is large enough to outshine the sluggish European trend. The profits are growing driven by global demand and not European recession. The story may continue despite such a strong run in the face of European mayhem.
European Food and Beverage Sector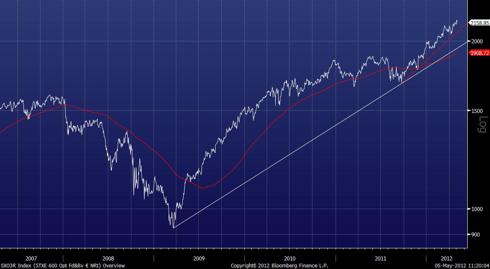 Source: Bloomberg
Just imagine for a moment that the Euro will break below 1.30 to the US-Dollar and continue to weaken against other global currencies. This would translate into even better earnings for the companies from the food and beverage sector. Those companies would earn an increasing proportion of their revenues and profits in strong currencies globally and translate those profits into weaker Euro.
Clearly with weaker Euro those companies will have a much stronger pressure on their cost side. Many of the input products and soft commodities are priced in US-Dollars. As long as the prices in soft commodities are stable or falling the food and beverage sector should be able to cope well with these pressures. Additionally as the wealth in Emerging Markets increases the spending power of the consumer the food and beverage companies should have no trouble to pass on the costs to the consumer. In 2011 Chinese consumer spend nearly 1 trillion US-dollars on grocery. This is roughly 750 US-dollars per head per annum. This number is a far cry of the roughly 700 US-dollars that is spent per head per month in developed countries. This comparison clearly shows the future potential.
The trend is clearly intact but very much overextended. However, the growth in the sector is the long-term story of the world population and wealth growth.
Disclosure: I have no positions in any stocks mentioned, and no plans to initiate any positions within the next 72 hours.