Financial markets have always to do what they need to do. They always need to surprise the investors. The obvious trend of the bonds markets was described by the flight from the financial sovereign crises in Europe and into the safe haven of the German, UK, US or Scandinavian bonds. It was almost impossible to imagine that this cycle may end any time soon and it was almost impossible to imagine what event may end this cycle.
Clearly Germany was not expected to be in financial trouble, ECB was not expected to increase interest rates and investors were not able to break the vicious cycles which forced financial institutions into buying more sovereign debt as the financial crises worsened fuelling German bunds bull market.
The following chart shows a clear bull trap the prices continued to increase above the upper band of a very wide bullish channel. It looked like a new phase of the bull market could carry the bund prices well above the upper boundaries. Suddenly the positive breakout from the channel failed and reversed quickly. This is a very well-known pattern in financial markets when the market has reached a pivotal point. Often it is very difficult to pinpoint what caused the exaggerated bull run to falter suddenly. The first best explanation is gravity. The marginal buyers dry up suddenly and there is no buyer left in the market. How can a marginal buyer disappear so suddenly in an environment of fear of risk and brain-less bull market?
German bund future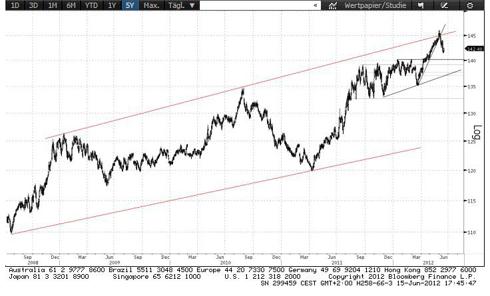 Source: Bloomberg
Brain-less bull market is possibly the best place to start. When investors stop pondering about merits of an investment the trouble starts. In the case of the German bund the whole explanation for the continued investment was based on risk-off in all sovereign European markets and risk-haven perception of the German sovereign investment. At yield below 1,5% on a 10 year German bund we had nearly a Facebook like valuation in German bonds - roughly 70x times earnings. Any stock would always be deemed expensive and we know what happened to Facebook.
The sudden correction was actually started by a very rational development at the margin which made the marginal investor disappear. Regulators in Sweden and Denmark did something unexpected. They broke the vicious cycle which was forcing insurance to pile into low yielding assets in Europe just to maintain capital adequacy focused on so called Tier 1 capital. Pension companies and life insurers will be allowed to raise the discount rate they use to calculate their liabilities to better reflect long-term growth and inflation prospects. Now the insurance companies can invest in other bonds and fix income instruments which they had to sell before. This could spark a major rethinking in Europe which in turn could turn the tide on the safe-haven fix income markets. Is any investor prepared to see bund again below 136?
Disclosure: I have no positions in any stocks mentioned, and no plans to initiate any positions within the next 72 hours.