Related Article
About the 2010 FIFA World Cup in South Africa
The Top 3 World Cup 2010 Video Games
Why is the World Cup Such a Big Deal?
The 2012 Major League Baseball season is now under way, and with it comes all the magic of the sport. As the most historical sports, fans go absolutely crazy over it. But with a few dozen games in the first round alone, even the most diehard of fans won't be able to stay glued to their TV set for every minute of action. But who needs TV when you've got a MacBook, an iPad and iPhone?
If you're a baseball fanatic, spectator, coach or player, below you'll find out about ways to tune into the games, keep up with scores, and watch live matches.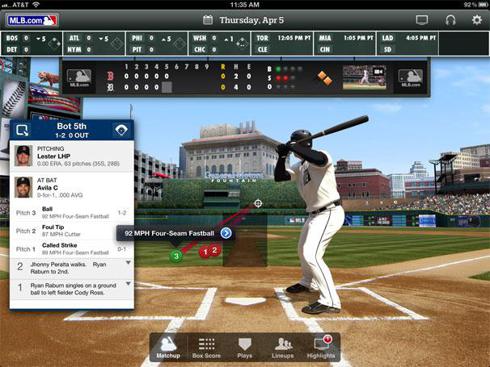 Watch the Major League Baseball on your Mac
Any iMac, Macbook Pro, Macbook, Macbook Air, or Mac Mini owner can catch many of the Major League Baseball games live on their computer. There have always been myriad options for watching live TV on your Mac, and any number of them will fit the bill for MLB action:
MLB.com: One of the best places to find the matches is MLB.com. This is the official Major League Baseball solution for watching the playoffs. MLB.com features one live game per day in video, audio play-by-play, in-game highlights, stats, news, pitch-by-pitch updates, etc.
Slingbox: A more robust option for streaming your home television signal to your Mac, Slingbox Solo'll let you watch MLB on your PC at work, too.
Free YouTube Downloader for Mac: Just because you're not in range of a WiFi connection doesn't mean you can't still get your MLB games on your Mac. You can download the Major League Baseball videos from YouTube and save to your Mac laptop or computer for offline enjoyment.
Watch the Major League Baseball On Your iPhone & iPad
If you're looking to watch the MLB on your iPad, iPhone, There are a number of iPhone applications available to help you keep up with the latest stats and events going on around the 2012 Major League Baseball games.
MLB At Bat: If you are trying to watch your favorite team online you can use MLB At Bat. This is the official Major League Baseball solution for watching the playoffs. MLB At Bat offers a number of ways to keep up with your team for $14.99 on all platforms. To get the free month you have to buy the app on an iOS device though.
ESPN Radio: ESPN Radio ($2.99) is a fantastic, five-star app. It includes live radio broadcasts for 17 local ESPN stations, in addition to the national ESPN radio station. There are also 35 podcasts for popular ESPN radio shows. The best part is that you can listen to live baseball games while doing other things on your iPad. Even though the iPhone doesn't support multitasking yet, the app can transfer your live stream to Safari so you can text or send emails while listening to live games.
YouTube Converter for Mac: YouTube are sure to pop up during the tourney with the promise of video highlights, you may collect a lots of great MLB videos. If the videos are compatible with device, you can sync them to device very easily and enjoy them on the go. Since not all video formats work with the iPad and iPhone, you need to convert video so it works. iFunia YouTu be Converter for Mac can download the video highlights and converter the downloaded video to iPad or iPhone supported video format.