Thanks to its bigger screen and landscape orientation, the new iPad is a much better device to watch movies on than any previous version of the iPod and iPhone. Now there are many people curious about how to get their DVD movies into a format that the iPad can play. The following tutorial is going to show you how to convert DVDs to iPad compatible video/audio files and watch DVD movies on Apple iPad.
At first, you need to know the formats Apple iPad can play.

iPad Supported Video and Audio Formats
Video/Movie Formats:
* H.264 video (up to 720p, 30 frames per second; main profile level 3.1 with AAC-LC audio up to 160 Kbps, 48kHz, stereo audio in .m4v, .mp4, and .mov file formats).
* MPEG-4 video (up to 2.5 Mbps, 640 by 480 pixels, 30 frames per second, simple profile with AAC-LC audio up to 160 Kbps, 48kHz, stereo audio in .m4v, .mp4, and .mov file formats).
 Music & Audio Formats:
AAC (16 to 320 Kbps), protected AAC (from iTunes Store), MP3 (16 to 320 Kbps), MP3 VBR, Audible (formats 2, 3, and 4), Apple Lossless, AIFF, WAV.
Now to watch the DVD movies on iPad, what you need to do is simply rip the DVD movies into a video/audio format supported by iPad. After you got the compatible format files, upload them into your iPad through the sync of iTunes Library.
To convert DVD to iPad video/audio files you need to download the DVD to iPad Converter from ifunia. (free download)
Step 1 Launch DVD to iPad Converter and add DVD Movie
Now get your DVD disc and insert it. Download DVD to iPad converter to your MAC, then run the program on your Mac and click the big button "Load..." to load your DVD disk, you may see the name of DVD Movie disk if you insert DVD disk before running this DVD ripper tool (see the image below to have an idea). This may take up to a minute or two depending on the contents of the DVD and the speed of your optical drive.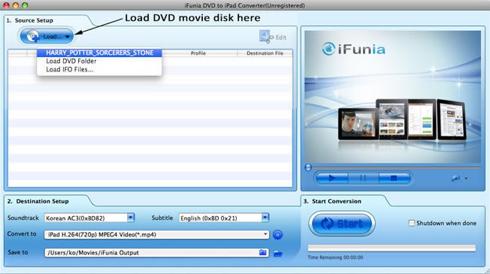 Step 2 Select iPad preset from output format list
In the Destination-Setup section of the interface, choose the right preset for your iPad device in the Convert-to drop-down menu. You can also change the output settings to make the video look the best on iPad.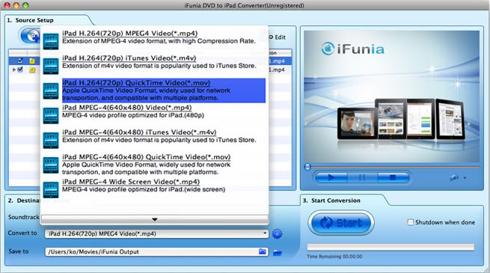 Step 3 Click Start to DVD to iPad conversion on OS X
To save converted files expand the "Output" panel, and then press the "Start" button.
Step 4 Transfer/sync movies to iPad
Connect your iPad to the computer and sync it with iTunes.
* In order to be able to sync video to the iPad, make sure the box next to "Sync Movies" at the top of the screen is checked. If it's not, you won't be able to sync movies at all.
* If it's checked, but the check box below it is not, you can select individual movies from your library. Check the box next to the name of the movie you want to sync (unchecked movies will not be added to your iPad).
* If you check the "Automatically add" checkbox under the "Sync Movies" box, you can choose to automatically add all movies in your library to your iPad each time you sync.
* For more fine-grained control over what movies get synced, choose options from that menu like most recently added or unwatched moves.
To play the movie on your iPad, select Videos or Movies from the iPad Main Menu. You will see an alphabetical list of the available movies. Click on the desired movie to play it.