What movie format will iPad play? How to convert a movie compatible to iPad movie format without buying the movie with iTunes.
So you just bought an iPad and want to stock it with movies from your DVD library. For both Windows and Mac users, we need a third-party software to converter DVD movies to iPad and then we can watch DVD on iPad.  We're talking about ripping a movie directly from the DVD. Here is the guide will solve the problem on how to watch DVD movies on iPad for Mac users. The software we will use here is iFunia DVD to iPad Converter for Mac. You can get it from its official page. It will not only help you convert DVD movies to watch on iPad, but also let you edit the DVD and much more.
Things You Will Need
* Cool iPad
* Favourite DVD movies
* DVD to iPad Converter from iFunia
* Free storage space
What movie format will iPad play?
So, most iPad users like to watch movies on this beautiful handset. However, according to iPad's official page, there are many technical specifications as follows for iPad movie format:
Movie Format: MP4, MOV, M4V
Movie Size: up to 1280 by 720
Movie Framerate: up to 30fps
Movie Bitrate: up to 1.5Mbps for H.264, or 2.5Mbps for MPEG-4
Audio: AAC up to 160Kbps, 48 kHz
H.264: A standard for video compression; known as MPEG-4 Part 10, or MPEG-4 AVC (for Advanced Video Coding); the latest block-oriented motion-compensation-based codec standard developed by the ITU-T Video Coding Experts Group (VCEG) together with the ISO/IEC Moving Picture Experts Group (OTC:MPEG).
MPEG-4: A collection of methods defining compression of audio and visual (NYSE:AV) digital data; introduced in late 1998 and designated a standard for a group of audio and video coding formats and related technology agreed upon by the ISO/IEC Moving Picture Experts Group (OTC:MPEG) under the formal standard ISO/IEC 14496; uses of MPEG-4 include compression of AV data for web (streaming media) and CD distribution, voice (telephone, videophone) and broadcast television applications.
MP4: Movie or video clip that uses MPEG-4 compression, a standard developed by the Moving Picture Experts Group (OTC:MPEG); commonly used for sharing video files on the Internet.
MOV: Common multimedia format often used for saving movies and other video files; uses a proprietary compression algorithm developed by Apple Computer; compatible with both Macintosh and Windows platforms.
M4V: MPEG-4 file extension used for videos downloaded from the Apple iTunes store; includes music videos, TV episodes, and full-length movies; similar to a .MP4 file, but may be copy-protected using Apple's FairPlay DRM copyright protection.
How to Watch DVD Movies on iPad for Mac?
It will be deadly easy for Mac users to watch DVD movies on iPad with the help of iFunia DVD to iPad Converter for Mac. This guide is easy enough to follow while you read it.
Step 1 Load movies to the DVD to iPad Converter for Mac
Now get your DVD disc and insert it. Then run iFunia DVD to iPad movie format converter on your Mac and click the big button "Load..." to load your DVD disk.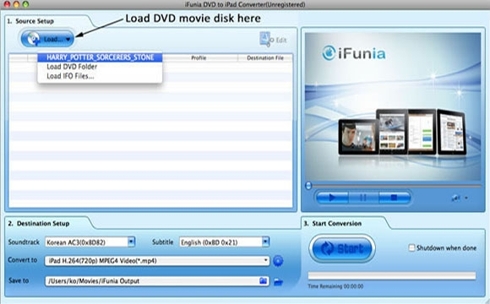 Step 2 Select iPad preset from output format list
In the Destination-Setup section of the interface, choose the right preset for your iPad device in the Convert-to drop-down menu. You can also change the output settings to make the video look the best on iPad. Here I set the output video format to 'iPad MPEG-4 Video (*.mp4)'.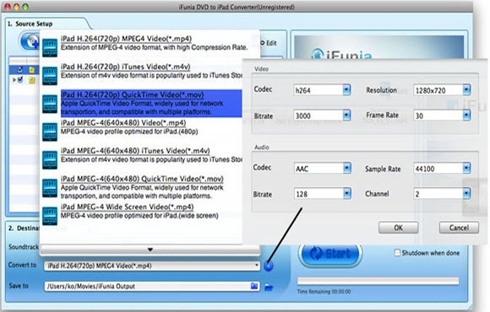 Step 3 Hit Start to convert DVD for iPad to Finish
Bingo! That's it! When the conversion is done you can copy the output DVD movies to your iPad and enjoy it comfortably on a cozy sofa! This professional DVD to iPad Converter for Mac from iFunia is specially design for Apple iPad, aiming to enable iPad users an exquisite experience of viewing DVD movies on your iPad's widescreen.

Tips
* If you are a PC user, please refer to iFunia DVD to iPad Converter for Windows.
* Output setting. In the settings window, the parametres of movie going to be gennerated will be set automatically according to iPad's video requirements. However, you can access more configurations and change them if you like to customize the iPad movie.
* This DVD to iPad Converter from ifunia allows edit videos, crop, trim video and add watermark and special effects.
* Batch Conversion. Save time with batch and fast speed of video conversion.