Michael Kors Holdings Ltd. is a company within the 'Retailer' sector. KORS Designs and distributes sportswear, accessories, footwear and other accessories, including bags, accessories, makeup, jewelry and watches.
It is a relatively new company, founded in 2002 in Hong Kong, and publicly traded since late 2011. Its current market capitalization is $ 7.500 M.
The question in this case would be if we should consider a company that at first sight, makes the same as so many others? It is so different from the others? Let's see it.
To begin the creator of all this is not just a designer, this is a whole Celebrity in U.S., but the key to success appears to fall in trust in a classic style that helps to have sustainable sales. This takes on special importance when the client 'target' are women between 25 and 45 years, which will soften to changing trends and adapt to them, with minor fluctuations in sales. These designs have become a status symbol for this market segment, which is that these women know that Michael Kors stores will find articles of luxury, but affordable for their pockets.
But Michael Kors is not just dresses and clothing, accessories sales contributed 61% to total revenues of 2011, possibly because these are more accessible in times of crisis that own clothes. It's a cheaper way to keep wearing Michael Kors.
Main company's goal is to grow, not only through strategic partnerships, as announced in distribution Fossil. KORS currently has about 220 stores, and want to grow 30% annually to reach 700 in 2017, distributed as follows: 400 in U.S., 100 in EU 100 in Japan and 100 in China. And it is precisely this fact that makes palatable investigate further about the company, and when you discover that sales have never grown less than 50%, that EPS has grown in triple digits in five of the last eight results and has an ROE of 43 (ROA stays at 28). Other interesting facts are that in mid-2012, there are already nearly 300 funds invested in the company, and that management owns 13% of the shares of the company.
Technically, her figure since its IPO, mainstains all the positive signs we want to see in a young stock, although it's recent selloff, last results published are again better-than-expected both in earnings and sales, making the current selloff a probable thing of the past.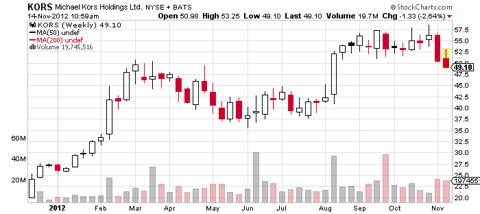 Because of all of that, it seems clear that KORS is a company with ambitious goals and therefore very to consider because it can be one of the big winners of the decade between 'retailers', it all depends on if they can continue to implement the many B º business has given to date. The results and trends in this case determine its success.
Disclosure: I have no positions in any stocks mentioned, and no plans to initiate any positions within the next 72 hours.