After looking in the first post both the current situation of supply-demand and future prospects, we now have to see ways for individual investors to invest in uranium as invest in other assets.
Before referring to the companies involved, I would comment that a possible catalyst for future rise can be found in the recent process of integration that has been taking place between companies, among which I highlight the acquisition of Hathor by Rio Tinto, the Mantra Resources from ARMZ Uranium Holding Russian Co, or the company Extract Resources by China Guangdong Nuclear Power Corp (CGNPC). This means for me a bullish sign, because it means that large companies are willing to invest large amounts of capital, to increase their production of the upcoming price increases.
The first instrument that I would like to comment is the Global X Uranium ETF , which consists of all the largest uranium mining companies, for their prospect, we can see in the top 4 positions determine up to 60% of the performance of the ETF . This instrument is relatively new, created in late 2010, and found the Fukushima issue, you can see the result for yourself.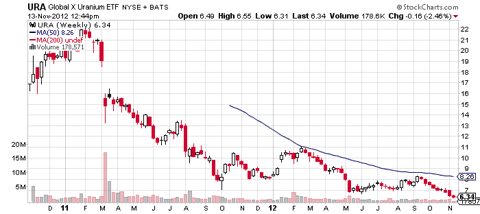 The good thing is that it has an acceptable volume of 200,000 daily titles. So this would be the most general form of investing, as there are no other option to invest directly in uranium mining. According to the World Nuclear Association, the 8 largest mining companies sell up to 85% of world production, these are: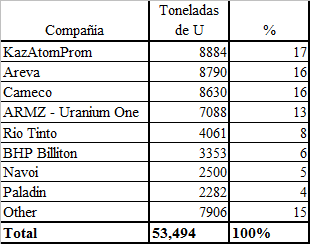 Kazatomprom and Navoi are Kazakh, and therefore beyond the reach of most, Areva is French, but is not included within the URA, Rio Tinto and BHP Billiton despite being among the great are so diversified in their extractions not we can consider Uranium based only. So we have Cameco , Denison Mines Corp , Uranium One (UUU.TO), Paladin (PDN.TO) These last two listed in Toronto.
Cameco , is the giant of the industry, with a market capitalization of $ 8,000 M, and a PER of 16, apart from the extraction is also engaged in refining and conversion of uranium mined later.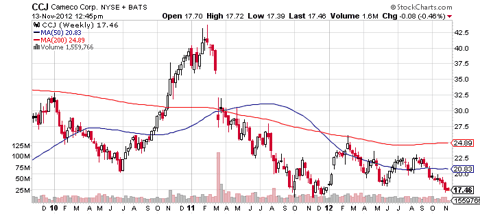 Canada's Uranium One (UUU.TO), has a market capitalization of about $ 2,400 M and a PER of 33.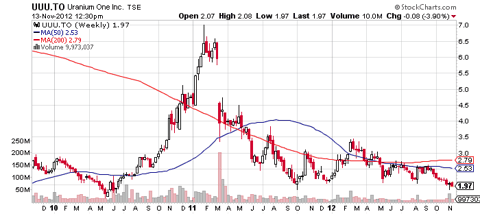 Paladin (PDN.TO), is an Australian company with a capitalization of $ 1,000 M, but also listed in Toronto. This one, after making significant investments in mines in Namibia and Malawi, seems no be prepared for an increasing its production in the coming years.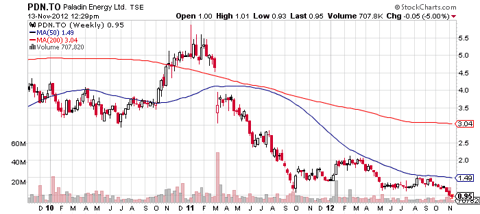 Finally Denison Mines Corp comment as whether or not the Big 8, is the 4th by weighting URA. It has a market capitalization of $ 600 M. DNN undertakes projects both in the U.S. and Canada, but also in Zambia and Mongolia.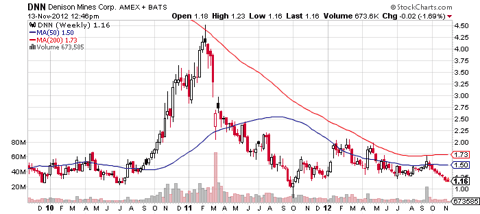 In summary, these would be five possible ways of investing in an appreciation in the price of uranium, although not well known. For the graphs we can see that the correlation between those 5 is maximum. However it is always more advisable to choose either the URA or CCJ, as other are smaller companies in which unskilled investor can always give unwanted surprises. From here the choice is yours, I personally know that I do not like trying to catch a falling knife while, so yes, I will keep these values ​​on screen looking ahead, the market tends to overreact to normal events like Fukushima, but the fundamentals always prevail eventually, so I consider pre-disaster levels as a first target, depending on the case would be a revaluation environment to 200-300%. Time will tell, for now don't turn off the light.
Disclosure: I have no positions in any stocks mentioned, and no plans to initiate any positions within the next 72 hours.