(Post also available in Spanish here)
Let's go today with an Israeli company in the Web 2.0, high-speed storage and data transmission sector. Mellanox is a company in great demand by companies working with data processing center (data center), high-performance applications, and web 2.0. What MLNX does is unite PCs and servers to enable them to work more quickly and efficiently. This is done with 'InfiniBand' which is the industry standard, and has helped sector progress over the last 10 years.
At results level, is a relatively young company, listed since 2007, with current market capitalization of $2.300 M , and has got many ups and downs in its EPS, however, its recent results have not usually disappointed, with increases in EPS of 41%, 48% and 113%. On the other hand, is more constant in sales, growing an average of 50% per quarter, while the last 3 results surprised by growth: 80%, 79% and 61%.
Beyond that, there are other details that inspire confidence, like the fact that the number of funds with invested has increased from 108 last summer to 183 in September, but what I like is that the management still owns 33 % of the company, that is what i like to call be aligned with shareholder interests.
At more technical level, it has exploded in prices since the beginning of 2012, it has suffered a sharp appreciation in recent times, due to the publication of some excellent results. However, more recently (in October), published not so welcomed results that make shares tumble more than 15% afterwards. From balance sheet, we can see that it has no debt, but its ROE has diminished from 13% in 2008 to the current 3% . To make things worse, profit margins diminished too since 2008, in this case from 20 to 4. This facts make me realize its worth to take a second look before investing in this company, given its volatility of both results and prices.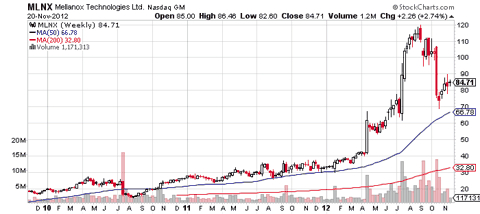 Talking about its main business, today its major clients are IBM, HPQ - Hewlett-Packard, ORCL - Oracle and EMC, and according to different sources, connects 50% of the TOP500 supercomputers in the world and 90% of their clusters.
The real bomb could be that (according to unofficial sources) could have as users of the giants InfiniBand: AAPL, GOOG and FB, and that among the immediate projects include a partnership with MSFT tech support for the new Windows 8, creating a major cloud services provider for Asia, and the development of software systems to adapt their product.
For these reasons the company is in a hyper-growth phase, which experts say could last for a couple of years, that would also be the time required by Intel(NASDAQ:INTL) to develop their own line of InfiniBand in order to compete with Mellanox. With no doubt, this competition to still recent data storage and web 2.0 market, seems to be the greatest threat to the future of MLNX's market.
The equation seems easy to MLNX, whether they are leaders in market share, and the market is expanding, its results increase incredibly, at least in the short term, because after buying QLogic's (developer of InfiniBand) by Intel INTL, the future will not be so easy, and more when your market share is already so high, and must be maintained. Definitely inspires confidence that both institutional investors and insiders bet for Mellanox to be inside, and that is reflected in the strength shown even with the market we are having lately, definitely worth to keep in mind for the future.
Disclosure: I have no positions in any stocks mentioned, and no plans to initiate any positions within the next 72 hours.