Coinstar was founded in 1991 and is listed since 1997, nowadays has a market capitalization of $1.800 M, and manages what is known in the U.S. as the 'Redbox kiosk'. These kiosk would be a kind of self-service machines in which consumers can rent or buy both DVD's and video games, currently operates 35,000. It also manages other counting coins machines which allows to exchange coins for tickets allow, now operates more than 20,000.
What good are all the results obtained by the company, as the two new alliances with going to start working, we split:
As the results presented last increments, EPS(since 2011 to current): +74%, ​​+84%, +53%, +151%, +79%, +47%, +202%. As for the increase in sales is not far behind, and these are even more constant (in the same order as before), 42%, 31%, 31%, 27%, 22%, 33%, 34%.
The company has a relatively low debt level, making it able to meet all its debts, although it would be desirable that this will not increase. The good part is that it has a 24% ROE, and that the number of funds invested in it has increased in each of the last four quarters, reaching up to 400. Anyway I wish the management team possessing more than 2% of the company.
So far we all agree that is showing great numbers, and looking to the future? It seems they want to keep growing, and to make this possible, it has established a trade agreement with Starbucks (NASDAQ:SBUX), with the arrival of 'Rubi kiosk', a self-service cafes machine from $1, plus other beverages, scheduled to be installed in supermarkets, drug stores, and grocery stores, expected to reach 500 units during the following year.
Second partnership, is with Family Dollar Stores (NYSE:FDO), (discount store of many different types of items), with which it has signed a multi-year agreement whereby install 7,500 new 'Redbox kiosk' in 45 states, increasing the number by more than 20% from current number.
At technical level, the value didn't't make anything special until 2010, where it started the climb, but then has behaved somewhat unstable, despite the steady increase in profits. We'll see if the next presentations of results fall short of expectations, and action can break the current downside behavior. Objective could bring us to record high located at $70. However, resistance to consider would be the $ 65, from which it can rise without any limit. However, its main purpose for the rest of the year and for 2013 would be not losing the $38 support level, in case it did we should be prepared for a more downside.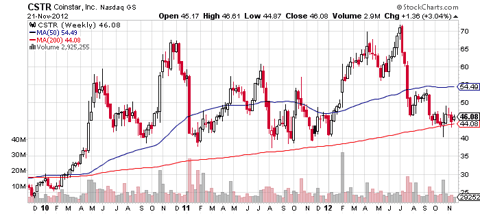 Disclosure: I have no positions in any stocks mentioned, and no plans to initiate any positions within the next 72 hours.