This 2009 IPO, is dedicated to providing technology and services for transport chain management through a Web-based platform capable of analyzing data and thus give solution to the needs of customers. The company was founded in 2005 and currently has a market capitalization of about $ 500 M.
Echo is not only a young and small business, it is also a high-growth company not excessively valued as other high-growth companies, since in 2011 had revenues of $ 600 million, a figure only slightly higher than its current capitalization. In addition, revenue per employee were more than $ 700,000.
Their last quarterly increments of EPS are: +200%, +100%, +100%, +67%, +44%, +25%, +33% and +40%, while sales increases have been +82%, +62%, +42%, +45%, 38%, +40%, +43% and +30%. Great numbers in both cases although failing to keep upward progression in both cases. EPS growth expectations for 2012 is 36%, and 39% for 2013. Moreover, ECHO has no debt, operating cash flow has grown a lot these past 3 years, and its ROE is at 11%.
A last pair of facts that I liked a lot, include that the number of funds invested in the company has gone from 93 to 138, and that management owns 32% of the company. For the 'value' peers, you would like to know that P/E was 32, that would be the bottom of the range seen in the last five years between 21 and 96.
At technical level, its behavior had been somewhat erratic, perhaps due to the low volume or low expectations for future growth, it was not until 2012 that Echo found its own upward trend. In July made its highs, a level that is still fighting today, in what could be a prelude to the start of an uptrend. We'll see if the market really sees potential in stocks and the price continues to increase, the first step would be take hold above $ 20, showing that already passed the first phase of the IPO in 2009.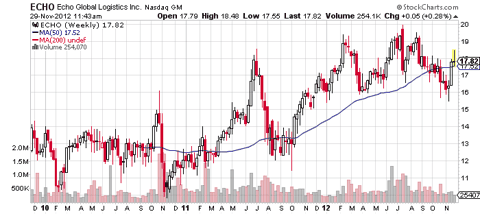 Disclosure: I have no positions in any stocks mentioned, and no plans to initiate any positions within the next 72 hours.