Below is a highly requested chart analysis from Monday's action.
Arena Pharmaceuticals (NASDAQ:ARNA)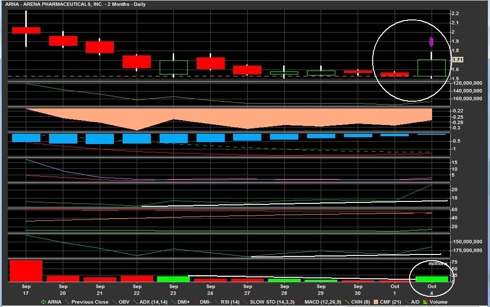 A/D line: A strong negative trend which signaled a potential start of a reversal today
ADX line:  bearish trend
MACD: Nearing a buy signal
CMF (21): Bearish, anything -.50 or lower is very bearish.
OBV: Confirmed all moves in the PPS, setting up for a reversal
RSI: Strong oversold signal with indicator of a reversal
Technical Analysis:  ARNA saw a solid volume accumulation day on Monday that forced some short covering and resulted in a bullish engulfing pattern. The amount of short covering was not substantial though so, we still need to force more covering else the bears could re-establish themselves.  Tomorrow is an important day as we are still vulnerable but, the bulls are finally pressing the action.
A bullish engulfing pattern is formed when the green candle completely engulfs the previous days red candle and the stronger the volume is on the green day, the better the odds of a trend reversal. The engulfing pattern is a strong indicator of a reversal in a stock and is exactly what I had been looking for when I started accumulating ARNA last week for the bounce trade.  With the strong bearish volume between $1.80 and $2.10 during the recent downtrend, I expect us to be testing a key area for shorts.  Any strong volume over $1.80 should force more shorts covering and allowing for us to take more profits into.  This is not a stock you want to be greedy with so, be sure to continue to reduce risk on any ride up.  The quicker you are playing with the houses money, the better off you will be.
For requested chart analysis, I simply use technical analysis.  I do not combine my analysis with any fundamental view or specific due diligence on the company (unless otherwise stated) when building my analysis.  Make sure you include all relevant information when making a decision.
Good luck out there,
Mike
Random News:  Santarus, Inc (NASDAQ:SNTS) is up nicely in afterhours trading after a 33k purchase came in.
At the time of publication, Kudrna was long ARNA and SNTS but positions may change at any time.
Disclosure:
Long ARNA and SNTS but positions may change at any time