US market slowed its pace of decline last week to finish with two positive trading sessions. I want to outline Friday, when prices easily recovered from the initial selling pressure to close near week's highs. The technical picture is mixed and that was the reason to close our short positions in Dow and SP futures. Anyway, I don't like to have a long exposure, since higher levels will mean an opportunity to sell again.
We closed our short GBPUSD position. I must admit, my expectations were for lower levels, but 1.5530/1.5550 proved tricky to break, nevertheless the market tried several times last week.
We started to build positions to bet on JPY weakness. The best step is to go long GPBJPY, where the situation stabilized after the heavy sell off two weeks ago. The technical picture also supports GBPJPY strength, what could lead us to more than 7-8% move up.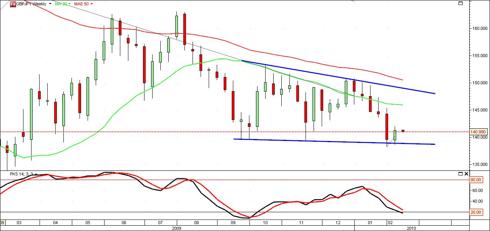 We are flat in commodities. Our shorts in corn futures are closed, since we haven't seen it taking advantage from other commodities' downside correction.
Disclosure:
No exposure
Disclosure:
no positions