PLEXOR's opinion about Twitter Inc (NYSE:TWTR) current market value is discussed in this post.
The following methodology has been implemented.
The future quarterly revenues have been derived by projecting the estimated historical quarterly compounded revenues growth based on the observation of its past trend.
The Future operating cash flows have been assumed at 40% of estimated revenues which is equal to the historical average rounded value computed for Twitter's main peers (FB, GOOGL, LNKD).
Twitter's future capital expenditures have been assumed at 15% of future revenues, an historical average value which is not too far from the corresponding average value of its main peers (18%).
The resulting annual estimated free cash flows and their terminal value (perpetuity growth at 2.8%*) have been discounted at an estimated weighted average cost of capital equal to 11.1% (based on an adjusted beta of 1.2, an equity risk premium of 6.1%**, a risk free rate of 1.7%).
The positive net debt balance has been added to the total net present value of the FCFs and the estimated total value of operating leases, stock options and unrecognized compensations costs has been subtracted to reach the total value of equity. Based on the number of outstanding shares an estimated per share price of $13.30 have been reached. This translates into a 35% overvaluation to the current per share market price.
PLEXOR's opinion, at per share price of $17.90 (Twitter Inc., H16.24 GMT on 26 February 2016, NYSE) and based on assumptions and estimates made, is now: "short". Horizon: Until next earnings date or until any eventual future material announcement by the Company if it happens earlier.
*annual world economy forecasted growth rate towards the year 2040. ** Equity Risk Premium figure has been recently raised to 6.12% from 5.6%.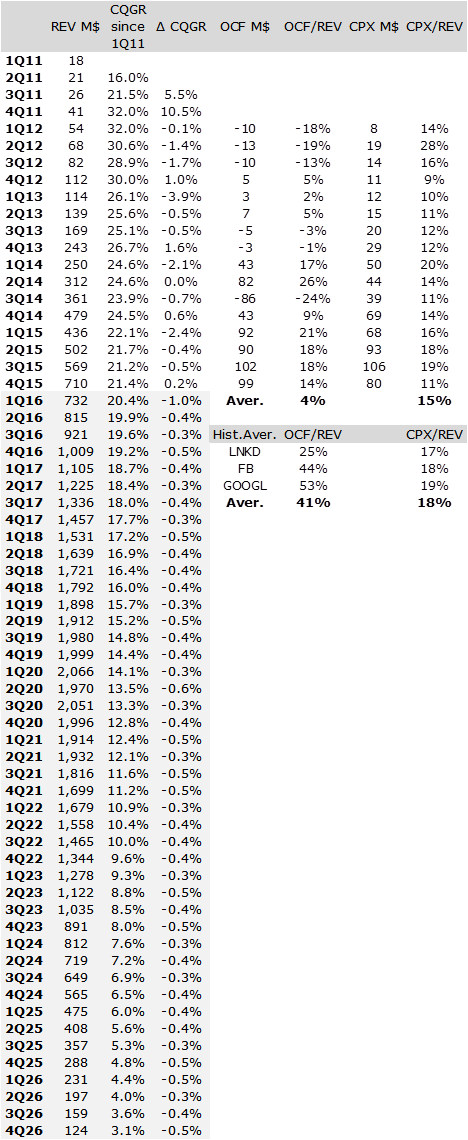 DISCLOSURE: I WROTE THIS POST MYSELF, AND IT EXPRESSES MY OWN OPINIONS. I AM NOT RECEIVING COMPENSATION FOR IT FROM AND I HAVE NO BUSINESS RELATIONSHIP WITH ANY COMPANY WHOSE STOCK IS MENTIONED IN THIS POST. I HAVE NO POSITIONS IN ANY STOCKS MENTIONED IN THIS POST, AND NO PLANS TO INITIATE ANY POSITIONS WITHIN THE NEXT 72 HOURS. I UNDERTAKE NO DUTY TO UPDATE THIS POST IN LIGHT OF NEW INFORMATION OR FUTURE EVENTS. REASONABLE EFFORT HAS BEEN USED TO ENSURE ACCURACY OF THE INFORMATION PROVIDED. HOWEVER, THERE MAY BE INACCURACIES DUE TO HUMAN OR OTHER ERROR. THOSE INACCURACIES INCLUDE, BUT ARE NOT LIMITED TO, INCONSISTENCIES, OMISSIONS, AND SPELLING MISTAKES. NO RESPONSIBILITY IS ASSUMED FOR ANY ERRORS OR FOR THE CONSEQUENCES OF RELYING OR ACTING ON THE INFORMATION PROVIDED IN THIS POST. IN NO EVENT WILL THE CONTRIBUTOR BE LIABLE FOR ANY DIRECT, INDIRECT, SPECIAL OR CONSEQUENTIAL DAMAGES, NO MATTER WHAT THE CAUSE. PLEASE CHECK MY PROFILE ON SA FOR FURTHER DISCLOSURES AND DISCLAIMERS.
Disclosure: I/we have no positions in any stocks mentioned, and no plans to initiate any positions within the next 72 hours.