As of today, AAPL closed at $466.59, 33.8% down on the 52 week high of $705.07 reached in the middle of September 2012. In other words, the market has changed its opinion of the company such that in 5 months its market capitalisation has depressed from $662 million down to $438 million today. The price chart shows a very distinct, very clear downward trend in that time. Being such a high profile company, with such a significant change in value, investors might be considering the merits of an investment in Apple. At either end of the success spectrum, investors who have held since the 52 weeks high, will be wondering whether to hold or jump ship, whilst investors who have had Apple on their watchlist, will be asking "Is now the time to jump on board, or are further falls to come?"
Investing is such a personal thing marrying risk, reward, relative opportunity and your preferred trading strategy but with respect to Apple, I think your likely course of action will depend on your preference for two trading strategies - fundamentals or technical.
Fundamentals
From a fundamentals perspective, Apple recorded a quarterly net profit of $13.1 billion. With a simple annuity of that quarterly net profit figure, the P/E is 8.36. Whilst Apple keenly pointed out that average weekly revenue increased from $3.3 billion per week in Q4-2011 to $4.2 billion in Q4-2012, net margin declined from 44.7% to 38.6% respectively. The bears would focus on the net margin, whilst the bulls would focus on the increased revenue and still healthy profit figures.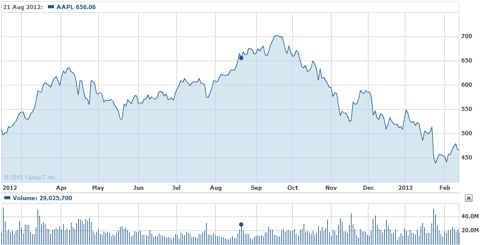 Technical
From a technical perspective, there are two clear issues with the chart. Firstly the down trend is clearly defined. In contract, and my second point, chartists may point to a double bottom at approximately $440, observed in late January and early February. Even so, I think a risk averse chartist will wait for a new clear peak above $480 and a higher low above $440.
Catalysts
Apple operates within a highly competitive, high profile environment. From a revenue perspective, Apple need to maintain their product quality and the buzz around the product range, to protect their high margin. Market penetration in China is also a focus. From a finance perspective, there is much discussion with what to do with their large cash pile, now $137 billion. I believe this is an unnecessary distraction, notwithstanding I am sure shareholders would be happy to see some of that cash pile returned to their wallets.
Fantastic, great new products don't happen overnight. I am very skeptical about the reported iWatch as any catalyst for the stock. I admire Tim Cook's recent comment
A lot of the decisions we make are for Apple's long-term health, not for a short-term 90-day clock,"
I like this attitude as I believe this aligns with Apple's focus on what they do best, and that is make high quality products that everyday consumers are willing to pay a premium for. As an anecdote, I have spoken with former Apple users, who are now using Android products and commented that they will return to Apple, once their current contract expires. Android is great technically, but the user experience with Apple is worth more. All that said, I think one good quarter with an uptick in margin and profit, in my view would be enough to see the stock's downward trend arrested.
To Bite or Not To Bite
I think you could do worse than invest in Apple at a P/E of 8.36 and today's valuations represent an excellent entry opportunity. I have no issue to disclose I am long on Apple having purchased just prior to the Q4-2012 announcement and so a little underwater at the moment. However, my strategy is to play this as a low risk, low reward blue chip play. This is not a growth stock anymore but it is my view that the technical trend is showing signs of reversal and with one solid quarter, the P/E could easily rise above 10 leading to double digit gains from today's valuation. I would exit Apple upon sustained drop below $440, seeing it as evidenced of a continued downtrend.
Disclosure: I am long AAPL. I wrote this article myself, and it expresses my own opinions. I am not receiving compensation for it (other than from Seeking Alpha). I have no business relationship with any company whose stock is mentioned in this article.
Additional disclosure: I am long AAPL with less than 2% of my portfolio and have no plans to dispose of my holdings within the next 72 hours.