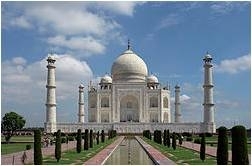 In 2007, India's Taj Mahal topped the list of the New Seven Wonders of the World. The mausoleum took over 20 years and thousands of people to complete…and it is a symbol of pride for the country. And last week, when state-run Coal India - the world's largest coal producer - issued India's largest-ever initial public offering… it was a symbol of the country's serious growth prospects.
How serious were investors? The IPO was oversubscribed as of the second day. And on the final day of the initial share sale, the company has $48.7 billion in bids: investors had offered to purchase 15.2x the shares on offer. In the end, the government sale of 10% of its shares brought in $3.5 billion.
Here's the thing: 56% of India's power is coal generated, according to the Central Electricity Authority (unfortunately, renewable energy is not a serious source yet). And Coal India accounts for more than 80% of the country's domestic production, and controls most of the country's reserves (according to The Economist). 
But things are far from perfect. The Indian government sets wages and prices and controls supplies. And shipping inefficiencies and an overburdened railway system make it difficult to transport enough coal to power stations. The bottom line, as The Economist points out: what begins as some of the world's lowest cost coal becomes some of the most costly by the time it reaches its endpoint.
But there's hope. Now that the firm is, at least partly, privatized, there is potential for improved production. And beyond that, demand for coal in India has only one direction to go. Today the country consumes 500 million tons each year. And according to the Planning Commission, India will need to more than quadruple its power generation by 2030. That sounds extreme, but note that today 400 million Indians are without power.
And India's economy is growing at a pretty solid clip (Asia's second fastest). GDP increased 8.8% in the second quarter this year, helped by a 12% gain in industrial production…and a 9% gain in mining. And Morgan Stanley expects the country to outpace China's growth by 2013.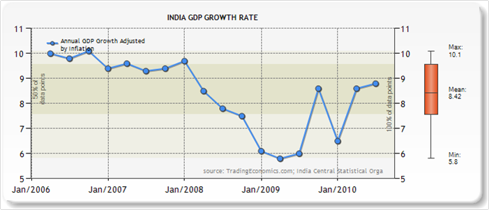 Source: Trading Economics
Disclosure:
"No Positions"