It's official…states are in trouble (all of them). According to a new study released last week by The Pew Center on the States, we are facing a $1 trillion budget gap for pension benefits. The bad news: only a few states entered into the recession with fully-funded pensions (New York, North Carolina, Wisconsin, Florida and Idaho). Many states (21) failed to fund their pensions even by 80%; the worst being Illinois, with 54% funding.   Failures like this lead to bigger problems for states, such as lower bond ratings, and in turn higher borrowing costs, which means less money for state funded programs.
The pension shortfall is just one problem. Lower tax revenues (from income and sales tax) are putting a serious strain on every state.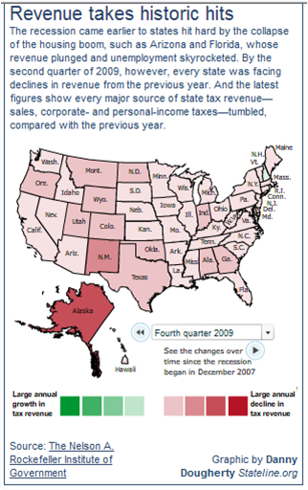 Source:stateline.org
Lower revenues, when matched with higher government spending, mean budget gaps. And it's not just California anymore. And it's not only the states hit hard by the housing bubble (Florida, Nevada, Arizona). Even states that were fiscally sound before the recession are in trouble. All told, 48 states now face budget deficits.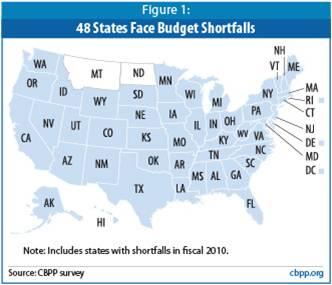 Source: Center on Budget & Policy Priorities
What does this mean? It means we are facing a crisis in the municipal bond market.     Municipal bonds (munis), generally deemed a safe investment, are starting to look questionable. The concern: they are not backed by the Federal government, so defaults could be on the horizon if states are unable to honor their debt obligations. In reality, states are being provided with some funds: the American Recovery and Reinvestment Act will provide almost $140 billion over 2.5 years. The problem: that is nowhere near enough to make up the collective deficit that will be realized over the next couple of years.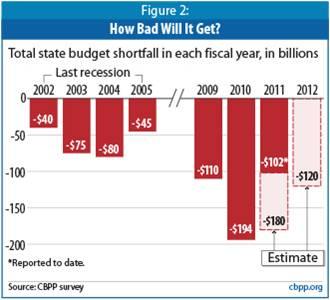 Source: Center on Budget & Policy Priorities
The recession has put healthy states in a league with those that were fiscally irresponsible. It has states working desperately to manage record high deficits. And it has made municipal debt a risky bet. 
Disclosure:
no positions