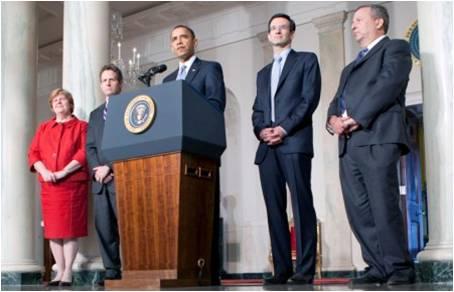 Source: Office of Management and Budget


In 2009, all eyes were on banks. In 2010, all eyes are on governments and deficits raging out of control. We have seen government spending blow up like a mushroom cloud. And now we will watch the dust settle.
We have seen debt crises unfold around the world. The markets have cast judgment on Dubai and Greece based on fears of default, and the sovereign debt troubles are spreading. Spain, fiscally stable before the recession, is now facing a deficit of 11.4% of gross domestic product (not to mention the highest unemployment rate in the euro zone, 18.8%). But we only have to look in the mirror to see a nation spending its way into trouble.
$3.72 trillion…That is the budget released by the Office of Management and Budget for 2010. Here's another number: 10.6%. That is the percent of GDP accounted for by the budget deficit. That means that we are facing a budget shortfall equal to over 10% of our economic growth. That is bad news. Here's more bad news: last month, Moody's Investors Services offered a stern warning that our impeccable
AAA rating "could come under downward pressure". What would happen to the sovereign debt market if the U.S. is downgraded? It's hard to think about.
When the government spends more than it brings in, we have a deficit. When we have a deficit, we have to borrow to make up the shortfall. While the budget calls for $3.72 trillion in spending, revenues will only equal $2.16 trillion. That leaves us with a $1.6 trillion gap. And yes, this is taking into account the expiration of Bush tax cuts and Obama's three year domestic spending freeze. We are still in $1.6 trillion worth of trouble.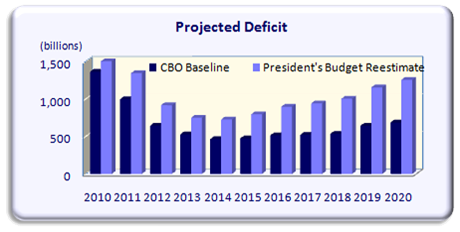 Source: Congressional Budget Office
The government is on a spending trajectory that is plainly unsustainable. For every dollar of debt that U.S. consumers have paid down during the recession, the government has spent $7 (according to the Wall Street Journal). But there's more: the fiscal budget in the future makes some lofty (and honestly unattainable) assumptions. In order to continue spending, the government has to borrow. That is recognized in the budget for 2011. But after that, it stops making sense. 
Unfortunately, looking ahead to 2015, the budget assumes that borrowing will decrease, and income tax revenues will increase sharply. The Congressional Budget Office (CBO), projects that individual income tax revenues will jump 33% in 2011, and 14% in 2012. The bad news: this is not likely.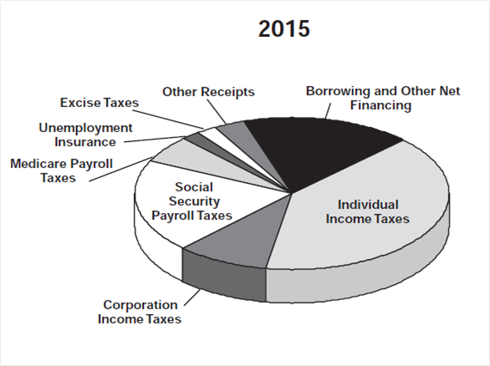 Source: Office of Management and Budget



It is improbable that we will see income taxes account for this much revenue (see below). Why? The budget assumes that unemployment will drop to a normal level within the next couple of years. Today, the unemployment rate stands at 9.7% (the U6 rate is 16.8%). And without the growth necessary to fuel job creation, we are several years from returning to healthy employment levels (there is no question we are facing a jobless recovery).  





 
       Revenues, By Source, 1970 to 2020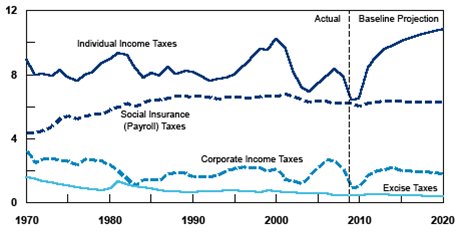 Source: Congressional Budget Office
The administration has also pinned its hopes on GDP averaging around 4% for the next few years (though the Federal Reserve is a bit more realistic, suggesting an average between 2.8% to 3.5%). So, for this budget to add up, we need unemployment to go way down, and growth to stabilize. Those are truly great expectations.   
Where do we go from here? The Obama administration has set a lofty goal: the budget deficit will fall to 4% of GDP by 2013 (again, it is now 10.6%). How can this be accomplished?   Well, government spending will continue to rise (to $5.71 trillion in 2020). So, in order to reduce the deficit, revenues will have to increase to close the gap.   This means increased tax receipts (income and corporate). Or, the government can resign itself to issuing more debt. Either way, taxpayers lose. The Treasury will have to start paying higher interest rates on bonds, and higher taxes will be needed to service that debt.   So buckle up, because the reality of the budget (and deficit) will come to fruition, and we are in for a bumpy ride. 
Disclosure:
none