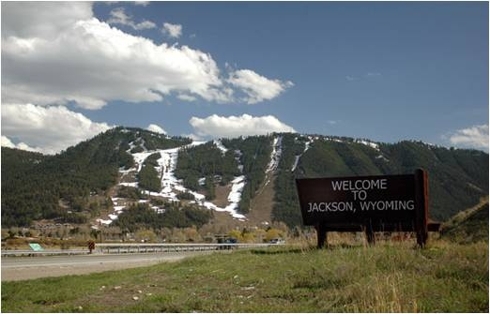 Jackson Hole, Wyoming made its mark in 1869, when the legislature of the Wyoming Territory became the first government in the world to grant women full voting rights. And last week, Jackson Hole claimed center stage again as the setting for the Federal Reserves annual monetary symposium. But unlike the historic decision of 1869, this meeting ended with less to celebrate.
Fed Chairman Ben Bernanke offered reassurance that the Federal Reserve "will do all it can" to stimulate the economy. And the Fed "is prepared to provide additional monetary accommodation through unconventional measures if it proves necessary, especially if the outlook were to deteriorate significantly".   But that reassurance loses its punch in light the weak policy tools the Fed has at its disposal. 
First, the Fed may add to its balance sheet by purchasing more long-term securities. Another option is to reduce the interest paid on excess bank reserves. And then the Fed can change the language of the FOMC statement: currently the committee plans to maintain low rates "for an extended period", but this could be modified to reflect a longer time frame.
Given these policy tools, it appears the Fed's arsenal of weapons against the recession is running bare. But Chairman Bernanke was quick to point out that "the issue at this stage is not whether we have the tools to help support economic activity and guard against deflation. We do". Still, given the current outlook, it is not really encouraging to note that one the weapons at the ready is changing the wording of the FOMC statement. 
New York University economist Nouriel Roubini was right when he told Bloomberg, "we are running out of policy bullets". That's really bad news considering the increasing chances of another decline. National Bureau of Economic Research committee member Martin Feldstein believes we are facing "a significant risk, maybe one chance in three, that there will be a double dip". And Roubini sets the odds higher…with a 40% chance of a double dip (and growth "well below" 1% in the third quarter).
Of course, this is made worse by the fact that Chairman Bernanke's speech came on the heels of the news that second quarter GDP was revised down to 1.6% (from a previous estimate of 2.4%).
The Fed's weapon chamber is almost empty, and we are trying to fight a one on three chance of renewed recession
(and any deflationary pressure) with words in a statement. I'm worried. After all… you know what they say: "sticks and stones may break my bones, but words will never hurt me".
Disclosure:
"No positions"