"Positive news"... that's how President Obama described Friday's Labor Department report. At least that was followed with "but it's not nearly good enough".
President Obama speaks in the Rose Garden, 9/3/10
Not nearly good enough is right. And try as we might, I don't think we can skew the report into positive news. Not only is the news not good, but it gets worse in light of the fact that Washington plans to continue attempting to spend our way out of a jobless recovery.
Yes, the fact that the unemployment rate rose to 9.6% was expected. But the really bad news is that the U6 rate (the jobless rate that accounts for the disaffected and under-employed) rose to 16.7%. This is serious: 2.4 million people have given up searching for a job, and 8.9 million people are underemployed (meaning they are unable to find full-time work). And that bad news is compounded by the latest from the Conference Board: online advertised job vacancies fell 57,100 in August.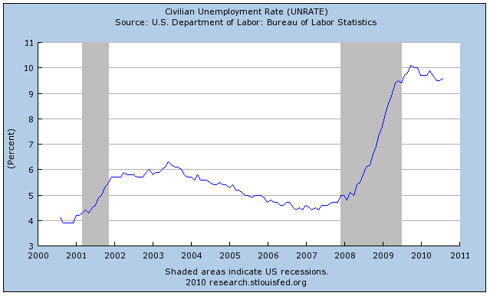 Now, the 'positive news' the President referred to was the fact that, while temporary Census jobs were cut by 114,000, private sector payrolls increased by 67,000. On the surface, that is good news. But the problem is that private sector job growth is slowing. In the first four months of this year, private payrolls gained an average of 119,000; but in the period of May through August, that slowed to an average of 72,000 per month…a 40% decline (according to Barron's). And, as Barron's columnist Gene Epstein points out, the concern is that if we continue at this pace, unemployment will not fall below 9% for three more years.
And the big problem is Washington's solution to unemployment: spend more. A few weeks ago, President Obama signed the $26 billion state aid plan. On its face, it seems like a nice thing to do: give money to cash strapped states so they can try to stay afloat. The bailout will provide $16 billion to Medicaid and $10 billion to pay teachers. Now, we need educators, and they need to be paid. But the plan will be funded in part by a $10 billion tax on multinational corporations…and that equals job kill. So at the end of the day, the bill eliminates one job to spare another. 
It all boils down to this: government spending crowds out private sector spending. And that's bad because private consumption fuels economic growth. Forbes columnist Steven Pope said it best, "Wealth creation comes only from the private sector. It matters not one jot how many public sector jobs are added for they equate to a net drain on the economy". 
Here's the thing: we've spent over $800 billion on a stimulus package that, at the outset, was supposed to hold unemployment below 8%. We know how well that plan went. We now have 14.9 million people out of work, and I wouldn't be surprised to see unemployment climb back to 10%. And then last week, the President said the White House will introduce a "broader package of new ideas" to encourage job growth. We'll find out soon enough how much those new ideas are going to cost.
Disclosure:
"No positions"