Sprint Nextel, Inc. has certainly had a difficult run the last four years. As an investor that took a long position when the share price was around $2.50 and sold after the price doubled, I want to know if the current situation is worth re-entering.
A loser in its industry
First, let's talk about all the reasons that Sprint could be in bad shape and what their downside looks like. As the charts below show, they hold a serious amount of debt and lose money year over year. Not only that, but they have a lower subscriber base, although postpaid subs make up a greater percentage of their total customers. Last quarter they lost over 400k subscribers while Verizon gobbled up 1.5 million.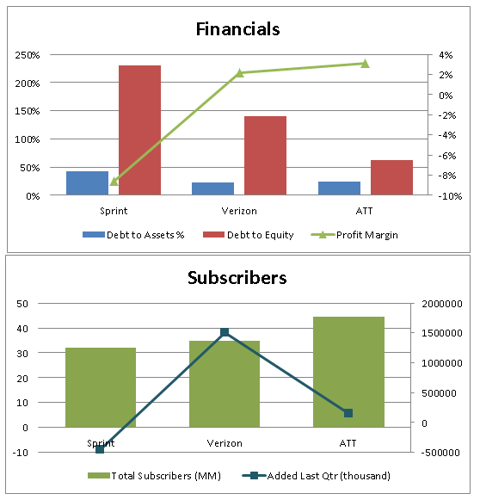 Paul Blart: Telecom Shop
Sprint has shown poor decision making over the last several years. They purchased Nextel which has cost them in integration costs of technology and subscribers. Then they purchased a majority stake in Clearwire (CLWR) in order to help build their WiMax technology. WiMax did not pan out as a pre-eminent cellular technology and ClearWire's value went right out the door with WiMax. In fact, Sprint announced its commitment to LTE only to find that ClearWire's value dropped 70% in one day. Certainly not a beneficial situation for a company you hold a majority stake in. To complete this comical scenario, Sprint paid $15.5 billion in order to obtain rights to market and sell the Apple iPhone on their network.
Based on all of this, Sprint sounds like a Paul Blart-type character who is befallen with constant failure. And you'd be correct.
When Sprint's stock price hit rock bottom thought, I will admit, it was fairly obvious that $2.50/share Sprint would rally. And it did, to $5, doubling my money. However, $5/share is nothing to be proud of when Verizon (NYSE:VZ) and AT&T (NYSE:T) are at least 10x that number.
Hope, Change, and Masayoshi Son
In Q3 2012, Sprint agreed publicly to a $20B merger for SoftBank to acquire 70% of Sprint. SoftBank is a large telecom in Japan, headed by Masayoshi Son. I normally don't go for the Obama-style personality love, but I think Son could be a huge factor in this recovery. He is an aggressive, risk-taking individual and have very hands-on leadership style. He weathered the dot-com boom even after losing billions. A really great article discussing his past can be found here:ArsTechnica
Now, is Son the next Steve Jobs? Maybe not, but he very well could be more influential even than Akio Toyoda, who is currently in the process of reinvigorating Toyota Motor Co. Does he have what it takes to create a Sprint that Verizon and AT&T customers could be worth switching to? Absolutely, I think through creative pricing and decent infrastructure there is room for an increase in subscribers.
The Shareholders
Believe it or not, the shareholders don't seem to be getting an unfair deal. In fact, they get a set of options that benefits all.
As it stands, Sprint will be restructured and the company stock will be re-listed as New Sprint. Shareholders will be able to convert 100% of their stock to New Sprint stock, or they will be able to convert up to 45% of their holdings to cash at around $7.60/share and the remaining 55% into New Sprint stock. Depending on the price paid and the anticipated New Sprint offer price, this could be a hedged bet from the outset. Currently (NYSE:S) is at $5.51/share.
Wrap-up
I hate to wager on one man's ability, but it worked for Apple (NASDAQ:AAPL), Amazon (NASDAQ:AMZN), and Microsoft (NASDAQ:MSFT). Maybe it can work in a fairly volatile, changing industry such as telecom. If there is ever a time to get in on this idea, now is it.
Disclosure: I am long S.